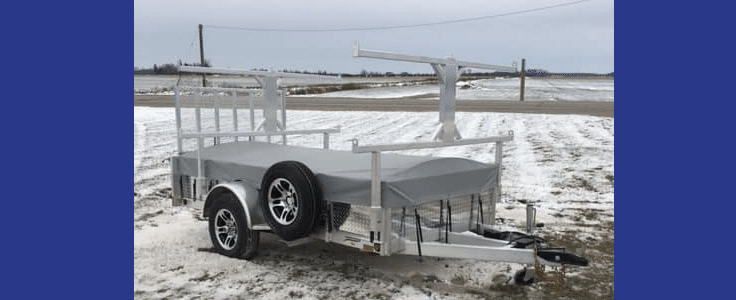 Will an Aluminum Trailer Rust?
Trailer maintenance in Canada typically means preventing rust. Rain, sleet, hail and snow can all affect the surface of traditional steel trailers. Find out how a custom aluminum trailer compares and why it's known for being a rust-resistant material. Don't fight the elements all year long; invest in an affordable trailer using materials that can withstand Canadian weather and your rugged work projects.
Rust-Resistant Alloy
Steel trailers begin to oxidize if exposed to water. This means rain, and especially snow, can quickly rust out the bottom of a steel trailer. Manufacturers use paint or galvanized steel to prevent this, but it only reduces the amount of rust.
Some steel trailers also use wood plank flooring to cut down on costs. While wood isn't subject to rust, rain and snow can wear away the finish and cause it to rot. Don't work with a compromised trailer floor, but choose a trailer that uses extruded aluminum floor pieces for greater peace of mind.
Compared to steel, aluminum is known as a virtually rust-free material. Rust is formed from a reaction between iron and oxygen, so it doesn't affect aluminum. Contrary to popular belief, this doesn't mean that it is completely corrosion-free. Aluminum trailers only require minimal maintenance, but if you perform no maintenance at all you may see corrosion on your trailer over time.
While not subject to rust, aluminum can experience other forms of corrosion, though it isn't as common as with steel. Typically, corrosion on a trailer in Canada is the result of leaving road salt sitting on your trailer. If you park your trailer by the road or frequently drive it down a salted road in the winter, be sure to spray it off at the end of the day. This prevents a buildup of highly corrosive salt.
All four seasons in Canada can come with high levels of moisture, so with a steel trailer, you have to worry about rust all year long. If you keep your aluminum trailer clean and free from mud, road salt and other substances that may be corrosive, you can enjoy years of quality hauling and equipment transportation.
Other Benefits of Aluminum
Aluminum is up to 15% lighter than steel but retains 95% of its strength. A sturdy, lightweight aluminum trailer can actually hold more than a steel trailer without overloading your vehicle. Most people think of aluminum as a weak, flimsy material. While it is true pure aluminum doesn't have the same strength as steel alloy, the metal used in Millroad trailers is an aluminum alloy. The small percentages of copper, chromium and titanium create a remarkably sturdy alloy that retains the lightweight nature and rust-resistant properties of aluminum.
Don't worry about keeping up on the paint job of your trailer. Most trailers come without paint to show off the glossy, stylish look of aluminum alloy. While no trailer is completely maintenance-free, our trailers are as close as you can come.
Compare aluminum and steel trailers on the road to see why most drivers prefer pulling aluminum. These lightweight trailers handle remarkably well, particularly with TorFlex EZ Lube axles.
Compare Aluminum Trailers Today
Browse our trailers today to learn more about the benefits of a custom aluminum trailer. Whether you're tired of fighting with rust on your steel trailer or are looking to invest in a trailer that will last, you can't go wrong with a Millroad trailer. As a leader in trailer manufacturing in Ontario, we're confident that one of our local dealers has the trailer you need. If you're not happy with the in-stock selection, design a custom trailer and our fabrication team will make a personalized option for you.