Flatdecks
When you have equipment or materials that need to be safely hauled, choose a Millroad Manufacturing flatdeck trailer. Discover how our premium aluminum trailers can help you get the job done. Find out what sets our trailers apart and learn how you can create a custom trailer to fit the demands of your job, your farm or your property.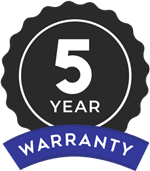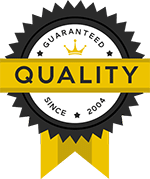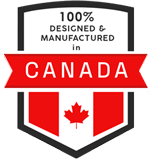 MF610 W_ TOOL BOX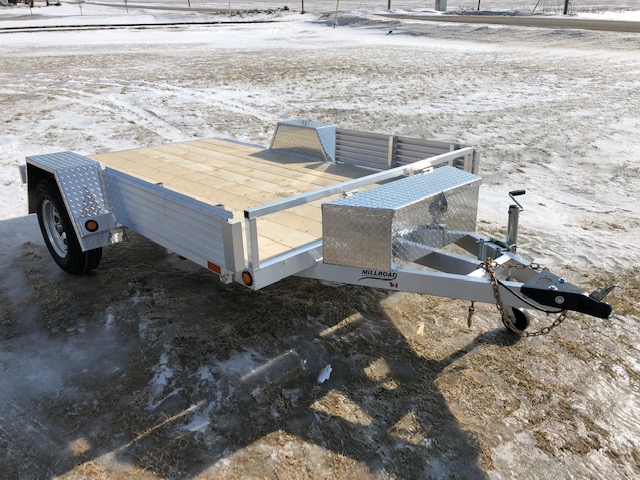 MF1280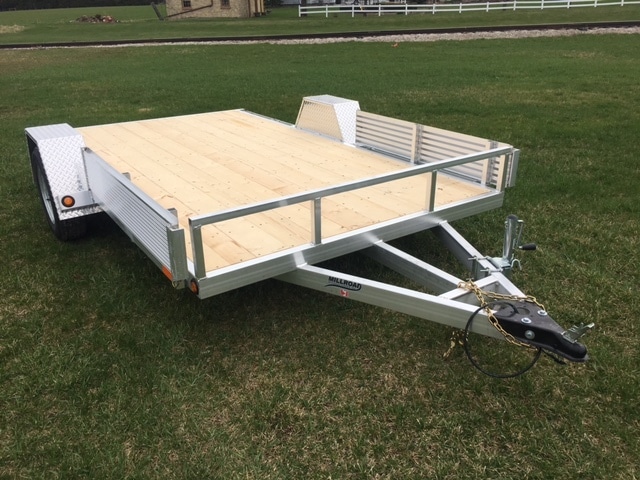 MF1480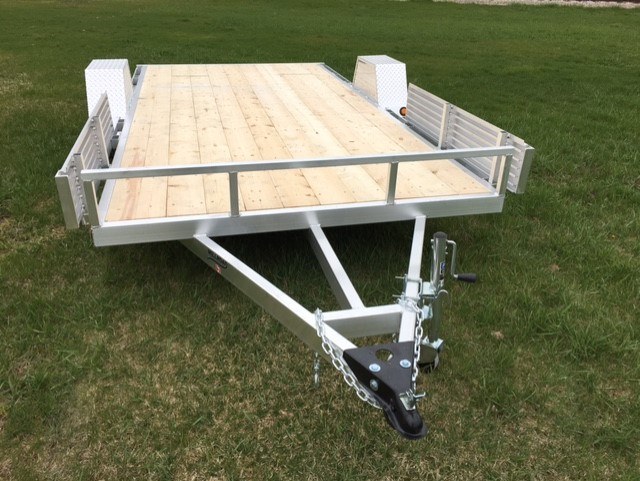 MF1480 W_ MOUNTED SPARE TIRE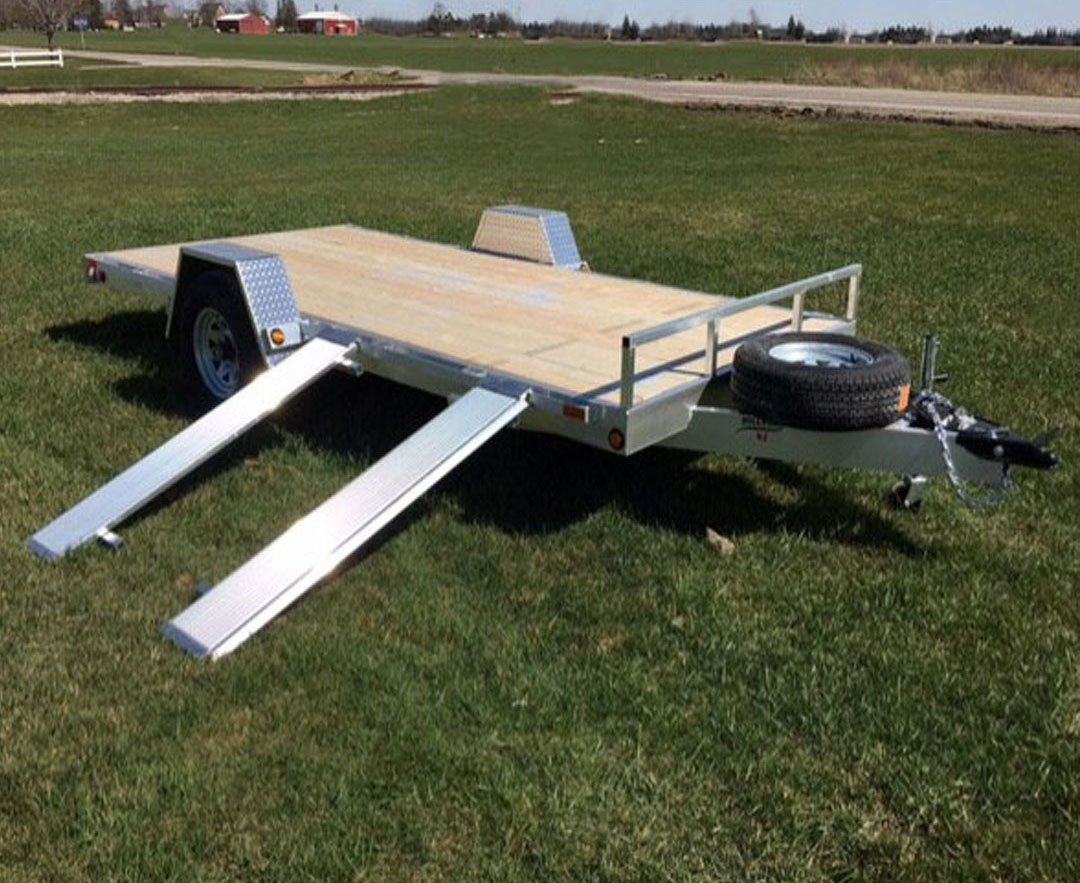 MF1479 W_ TOOL BOX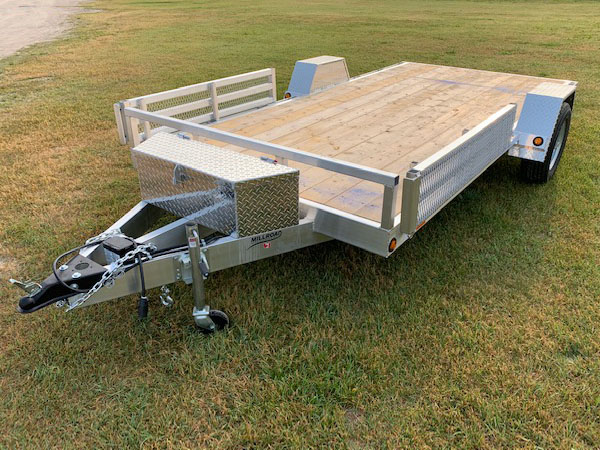 MFT1880-5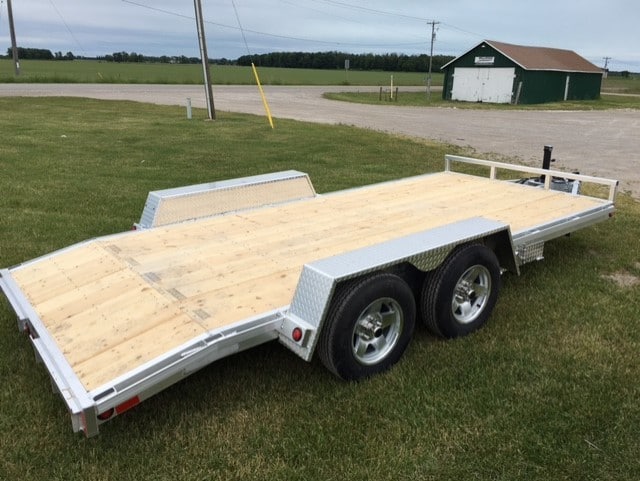 MFT1880-7 W_ TOOL BOX & STAND UP ROD MOUNTED RAMPS
MFT2080-7 W_ FULL RAMP & TOOL BOX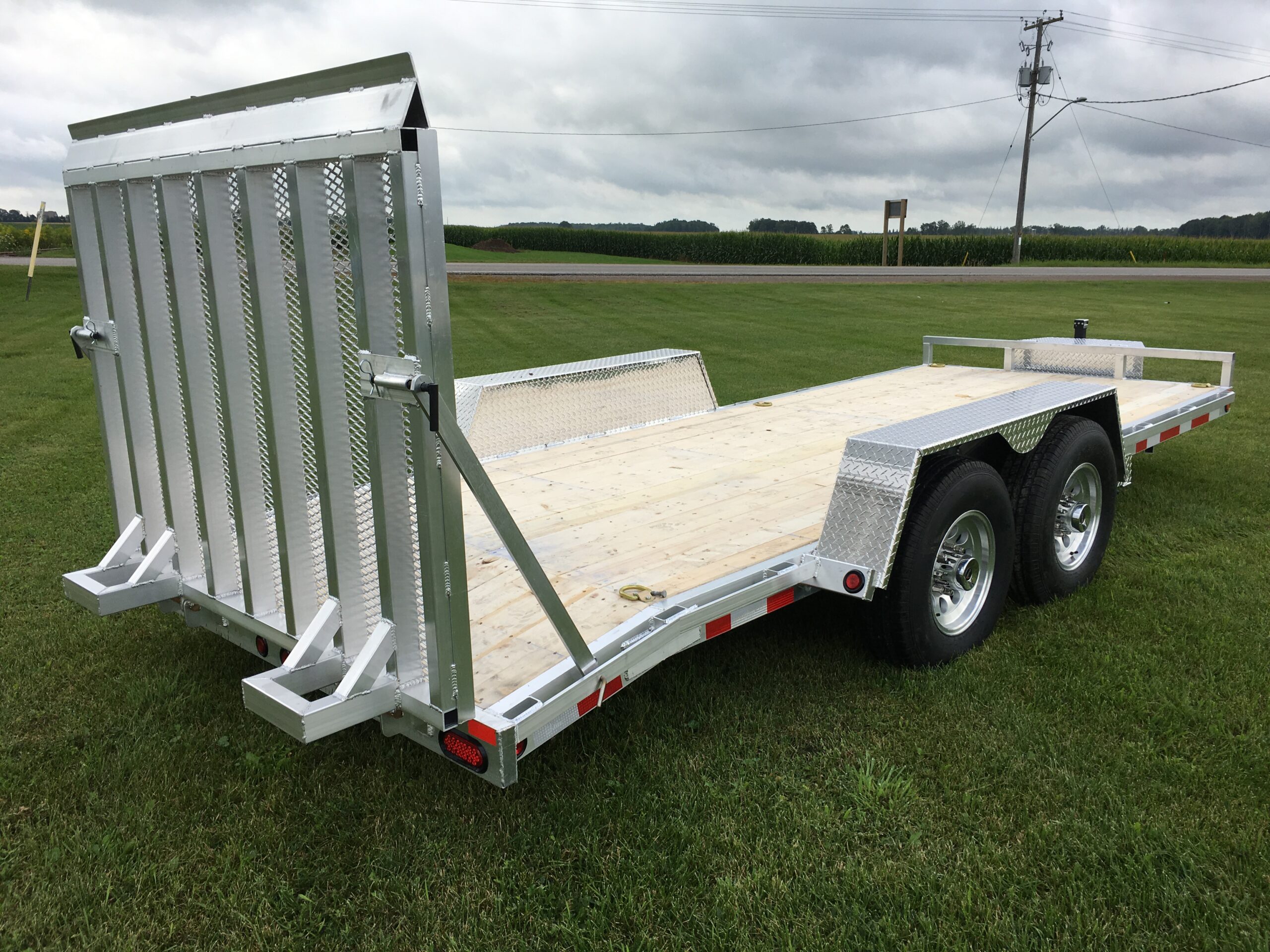 MFT2080-7 W_ FULL RAMP & TOOL BOX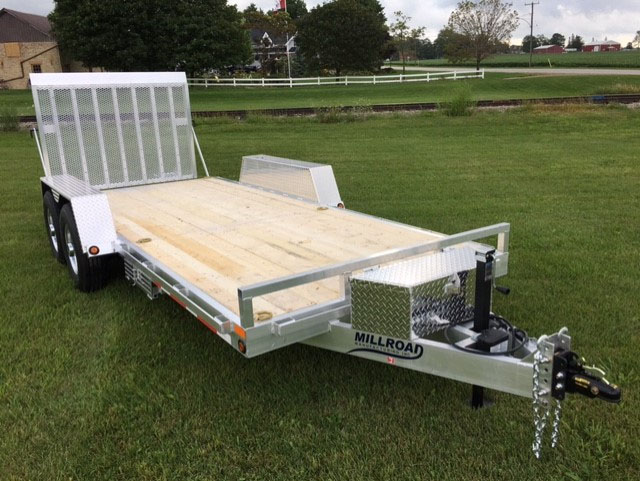 MWD18-5 W_ TOOL BOX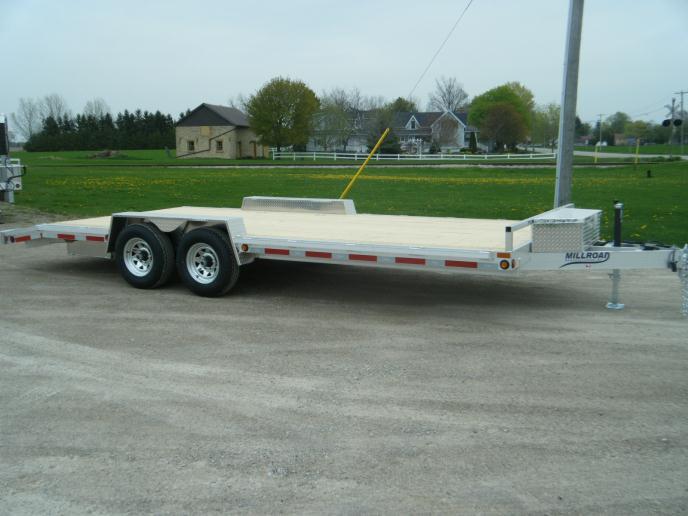 MWD24-5 W_ TOOL BOX & REAR STABILIZERS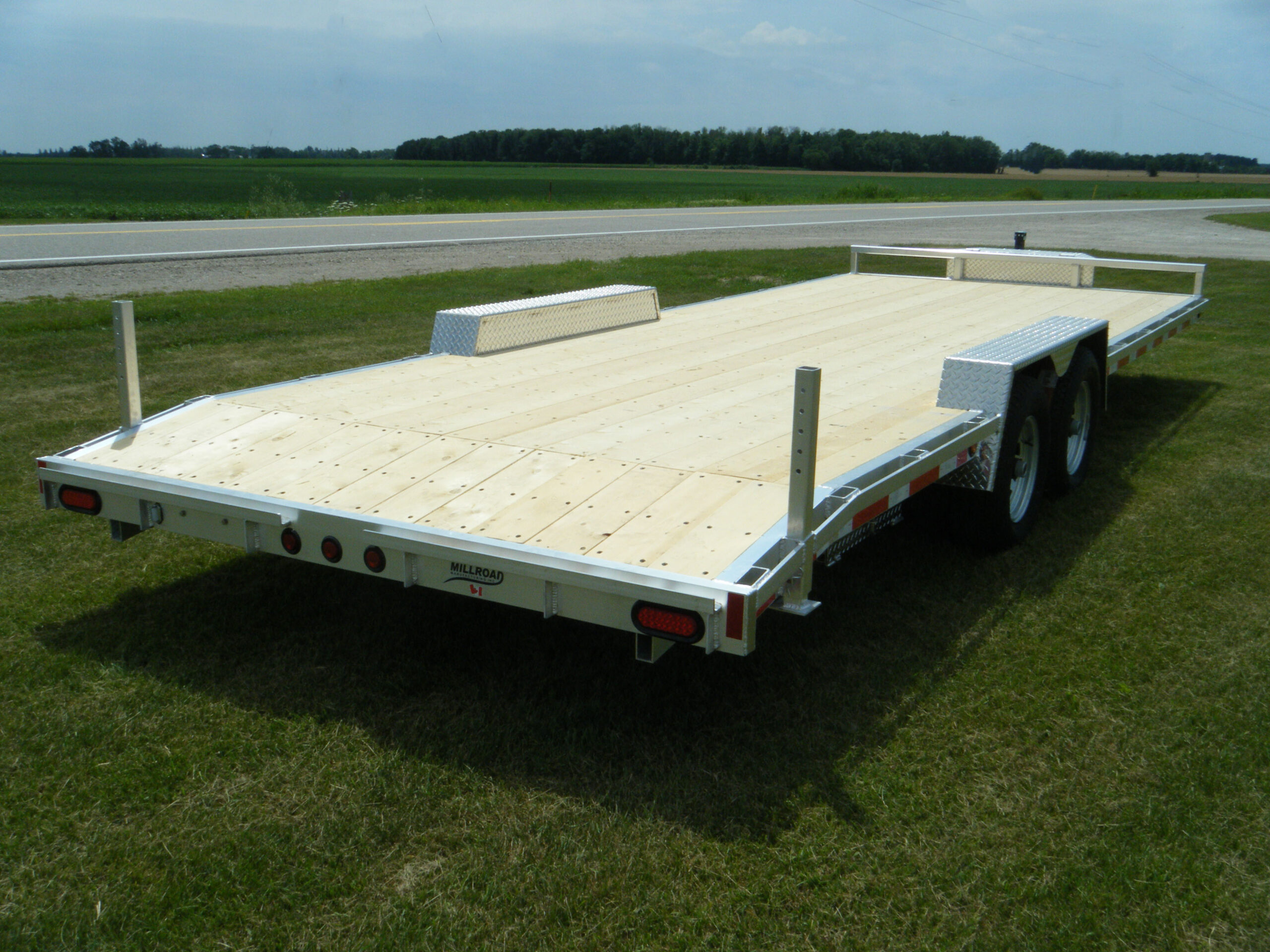 MWD24-5 W_ TOOL BOX & REAR STABILIZERS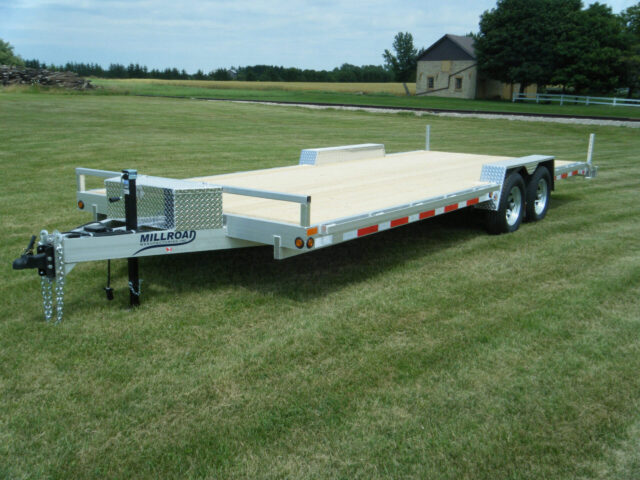 MWD20-7 W_ TOOL BOX, 10K JACK & ADJUSTABLE RAMPS STAND UP RAMPS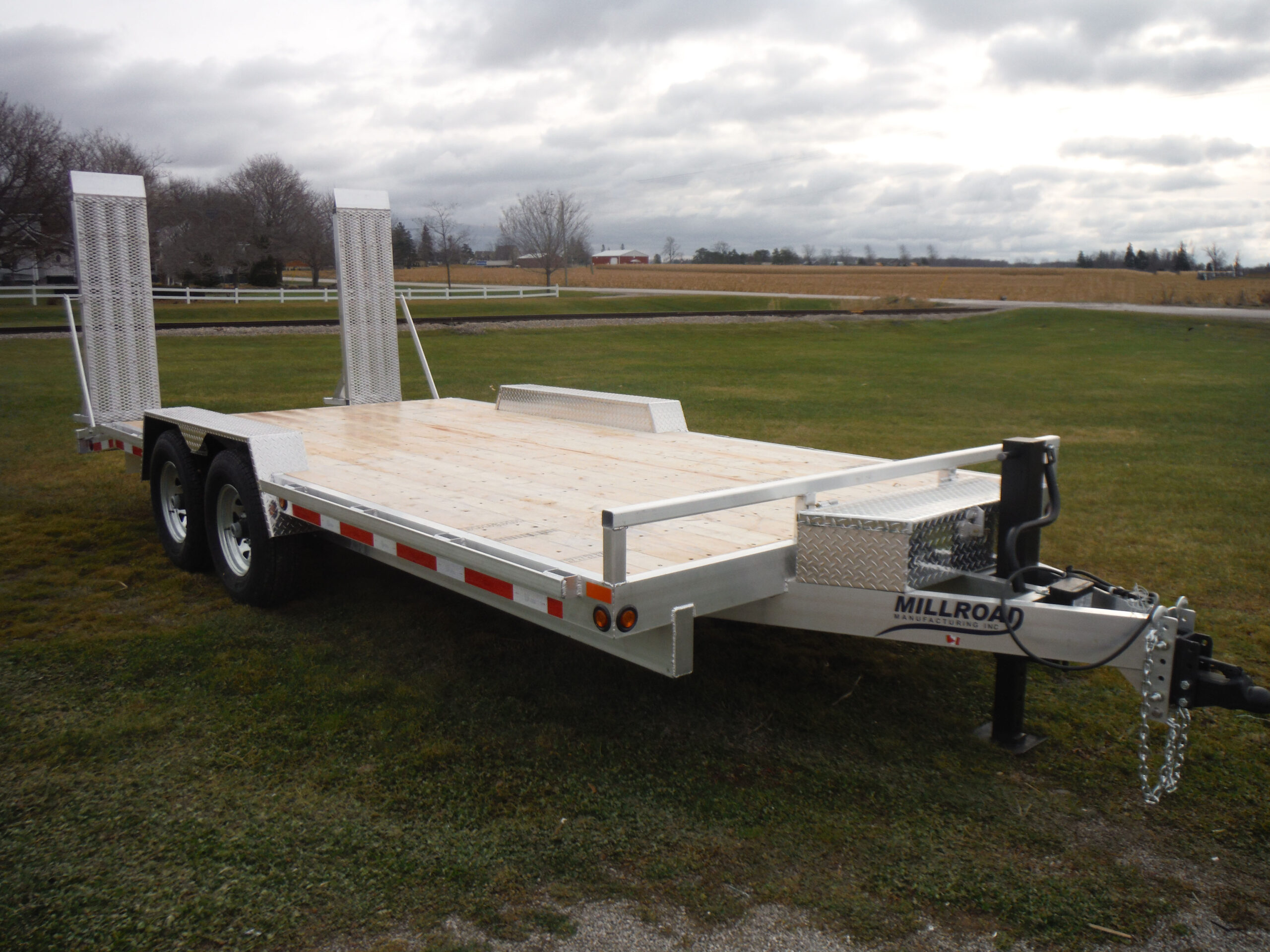 MWD20-7 W_ TOOL BOX, 10K JACK & ADJUSTABLE RAMPS STAND UP RAMPS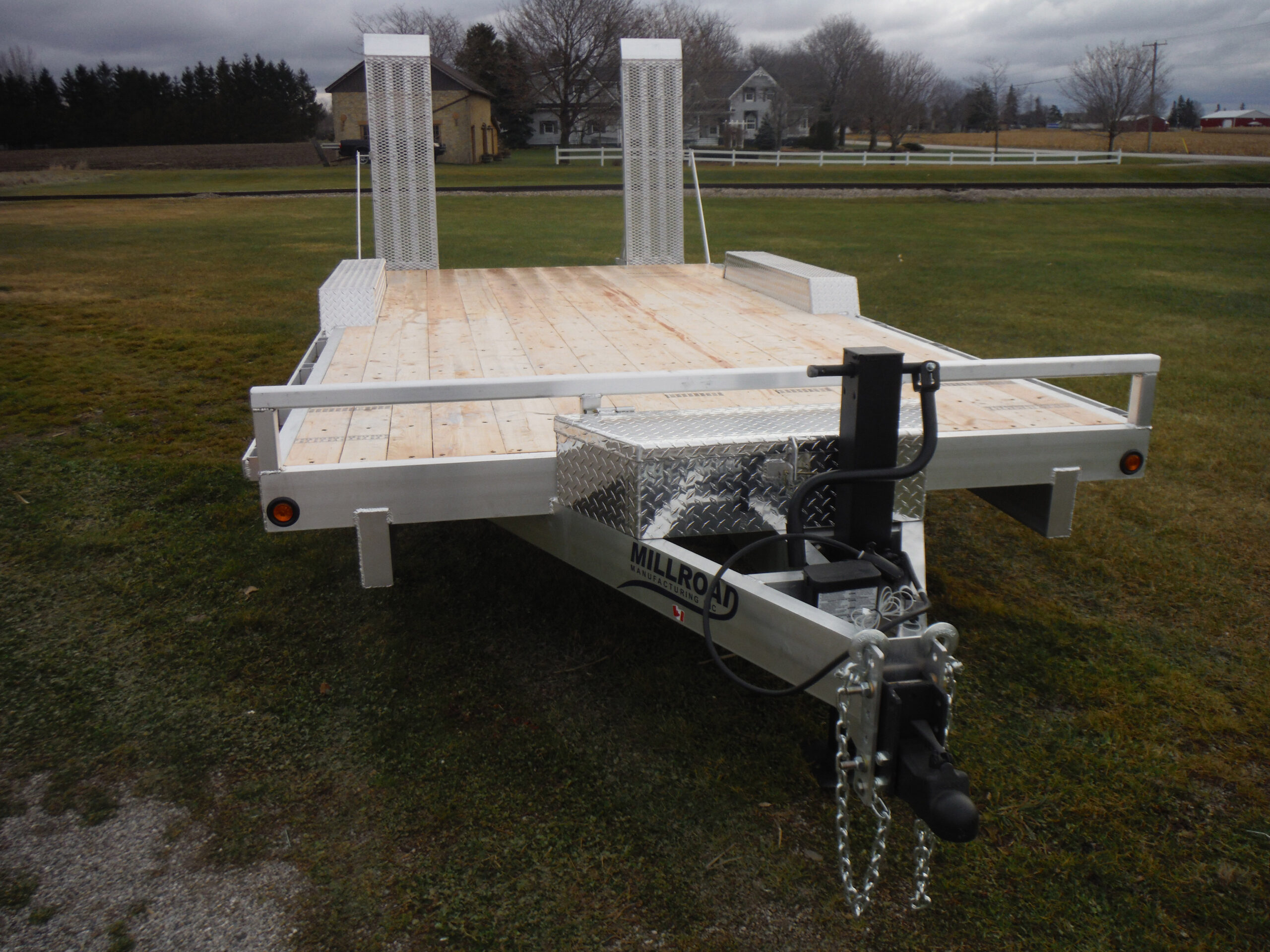 MWD22-7 W_ ALUM RIMS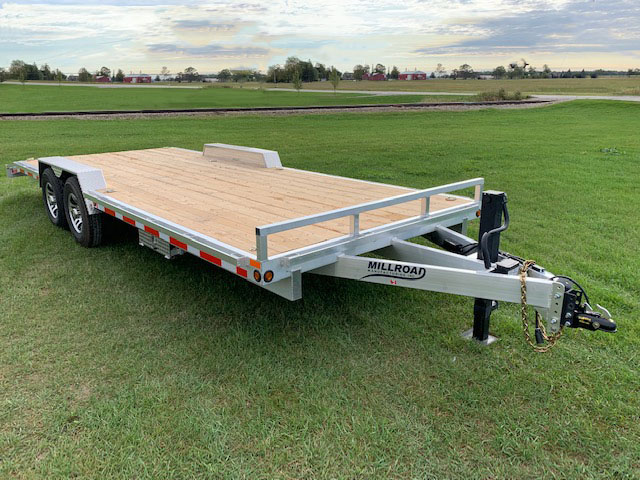 MWD22-7 W_ ALUM RIMS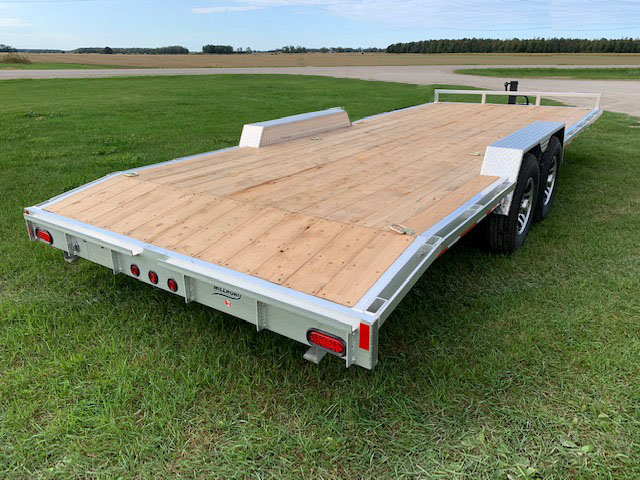 Previous
Next
Pause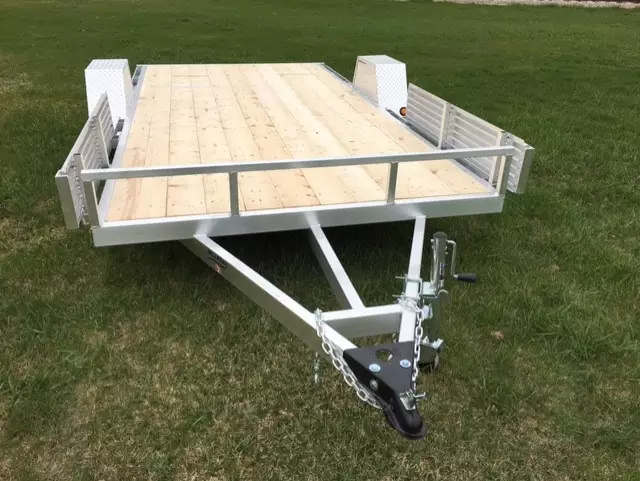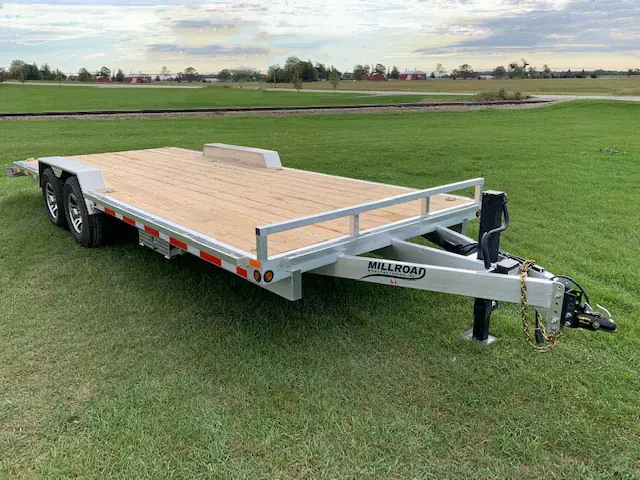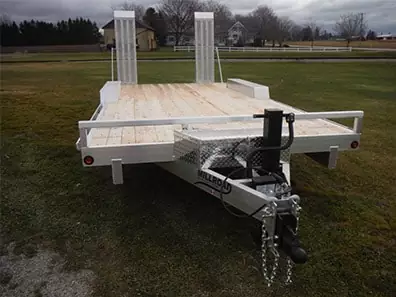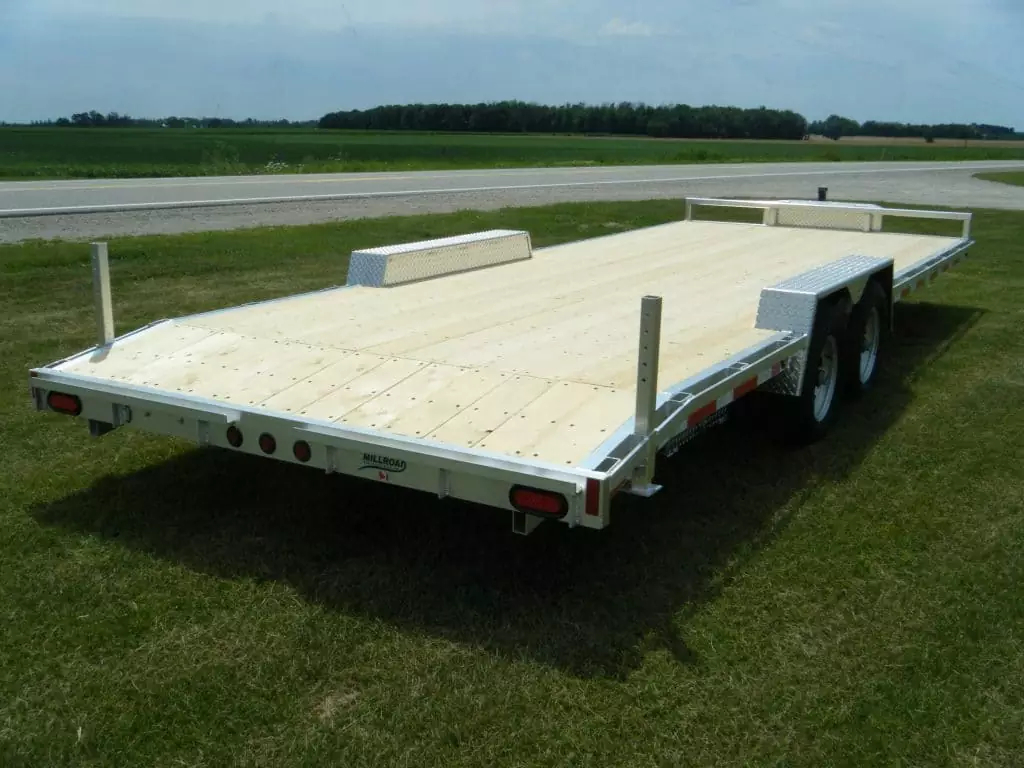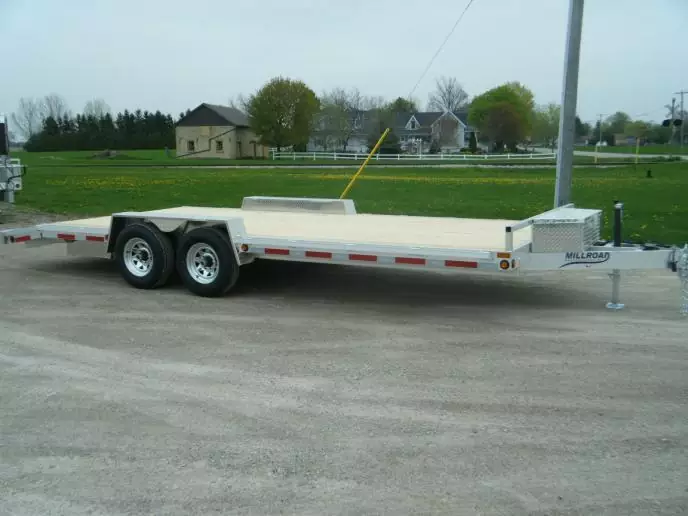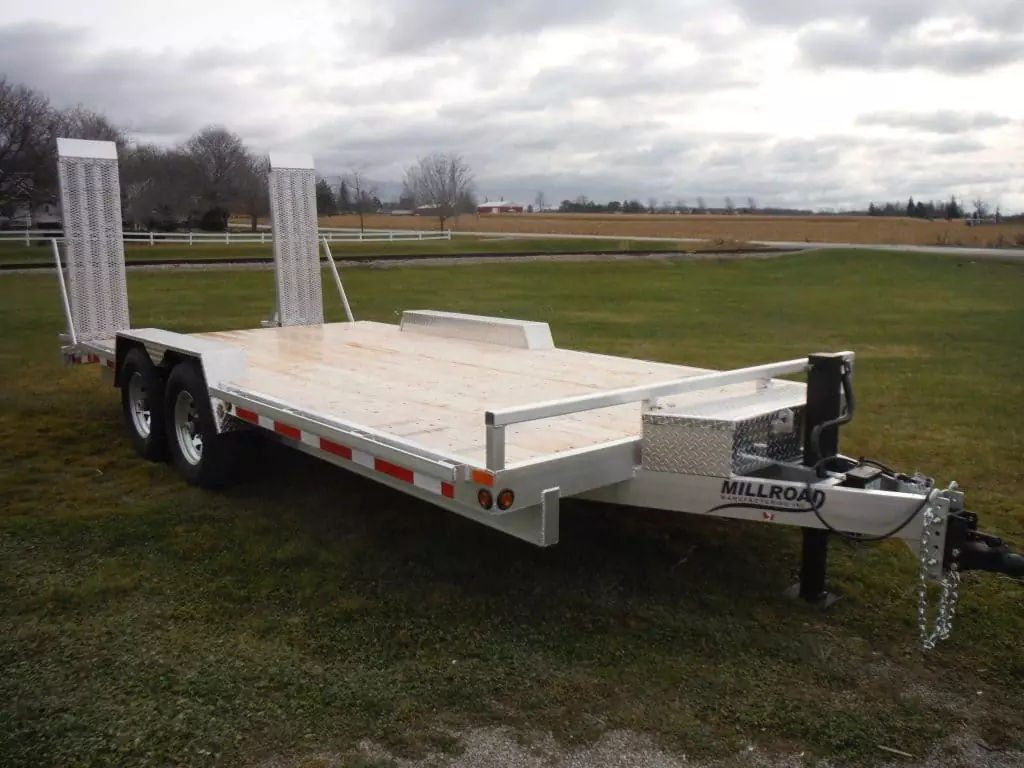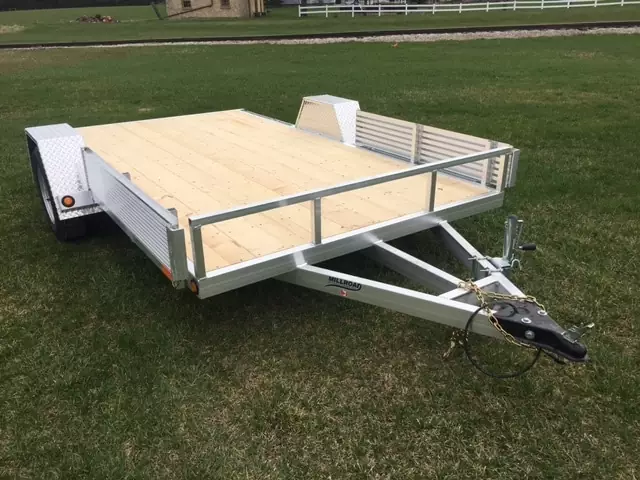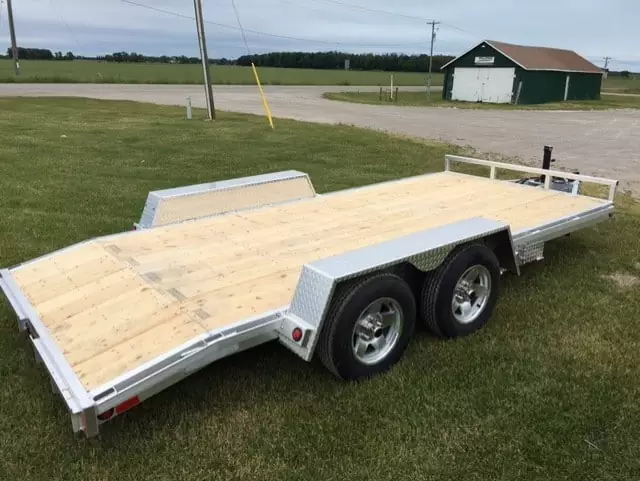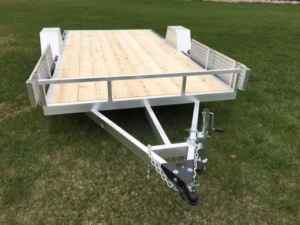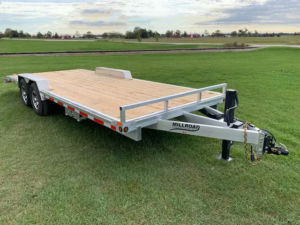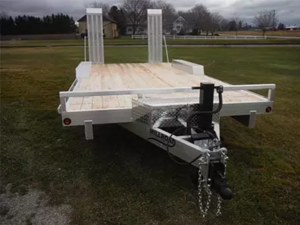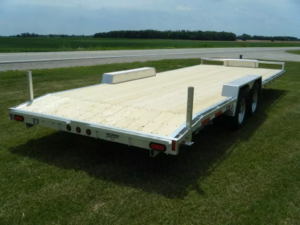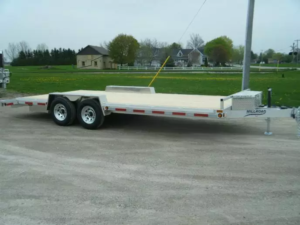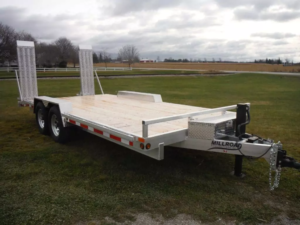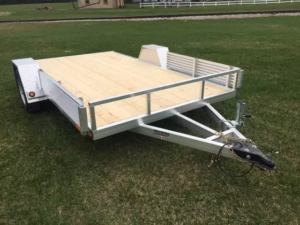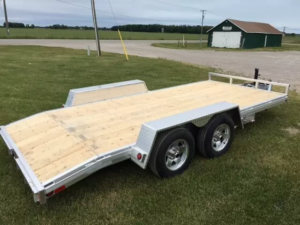 The Millroad Difference
At Millroad, we take pride in our trailer designs. From brake lights to trailer tongue, we use innovative designs, high-quality materials and the latest fabrication techniques to build a trailer you can rely on. Here are a few benefits you can enjoy when you choose one of our flatdeck trailers:
Durable aluminum frame
2×8 wood floor
EZ lube hubs
Electric or hydraulic brakes
Lengths between 8 – 24 ft
Widths between 5 – 8 ft
Single or double axle options
Compared to a steel trailer, our trailers are lightweight and corrosion-free. Don't settle for a trailer that needs continuous maintenance and can easily overload your towing capacity. High-quality aluminum is just as strong as steel at a fraction of the weight. See what your truck is capable of by hooking on to one of our trailers and hauling one of these common loads.
Common Flatdeck Uses
There's a reason flatdeck trailers are also known as utility trailers. Discover the versatile uses of your new trailer today. Choose a trailer that includes ample tie-down points and ramps to haul a wide range of vehicles and materials. Here are a few common uses for our flatdeck trailers:
Transporting ATVs and other off-road vehicles
Hauling vehicles to the auto shop
Taking dirt bikes to a trail
Moving sheet materials and other equipment to a new job site
The deck of these trailers is closer to the ground than a deckover trailer, which makes them ideal for loading vehicles and equipment. Always check the weight rating of your trailer and towing vehicle to ensure a safe ride.
Don't let these uses hold you back. One of the biggest advantages of flatdeck trailers is their versatility. As long as you follow weight limits and safely tie down your load, you can haul nearly anything you need. Move furniture or appliances to a new home or haul bags of mulch, lawn care equipment or skid steers to a job site.
Custom Trailer Solutions
Can't find a trailer that fits your needs? At Millroad Manufacturing, we specialize in custom trailers to fit your preferences. Work with our team today to discover how we can fabricate a new trailer that matches your specifications and uses the same high-quality aluminum, industry-leading axles and dependable fabrication techniques of our stock trailers.
Add useful accessories to make it your own. Aluminum rims, custom toolboxes, tie-down points, aluminum flooring and custom storage racks are just a few ways we can tailor your trailer to fit your storage and transportation requirements. With the right tie-down gear, you can haul virtually anything you need for your home, farm or work project.
Choose Your Millroad Trailer Today
Enjoy a flatdeck trailer from a leader in design and manufacturing. To learn more about our trailer options contact or visit a dealer near you to see for yourself how our lightweight aluminum trailers compare to traditional alternatives. Get the most out of your truck by choosing a reliable trailer to safely transport your off-road vehicles, work equipment and more.