GooseNecks/Fifth Wheels
Haul extreme loads and enjoy professional pulling power with a Millroad Manufacturing gooseneck or fifth wheel trailer. Both of these hitch types offer more trailer hauling capacity and higher weight ratings, making them a great option for professional use. Learn more about quality features, versatile designs and custom options available with a Millroad aluminum trailer.
MGN25-7 w spare tire and full width flip over ramps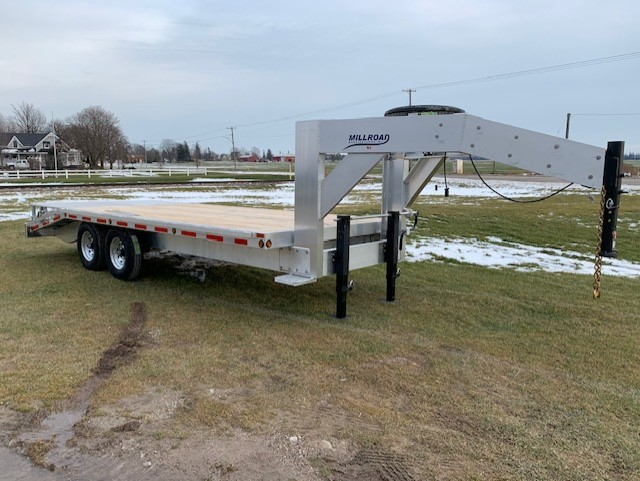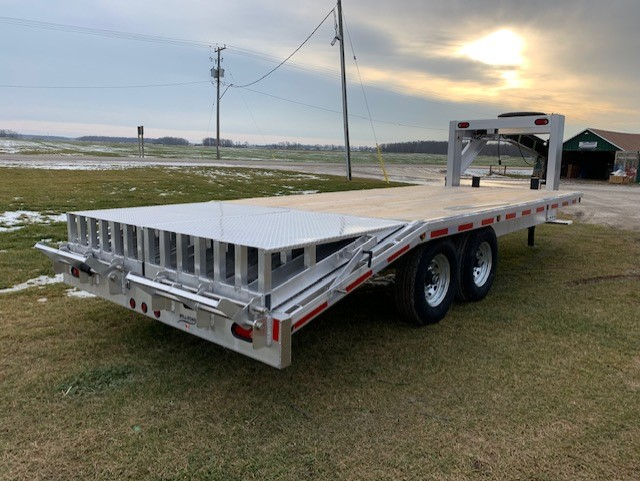 MGN25-7 W_ FULL WIDTH FLIP OVER RAMPS & ALUM RIMS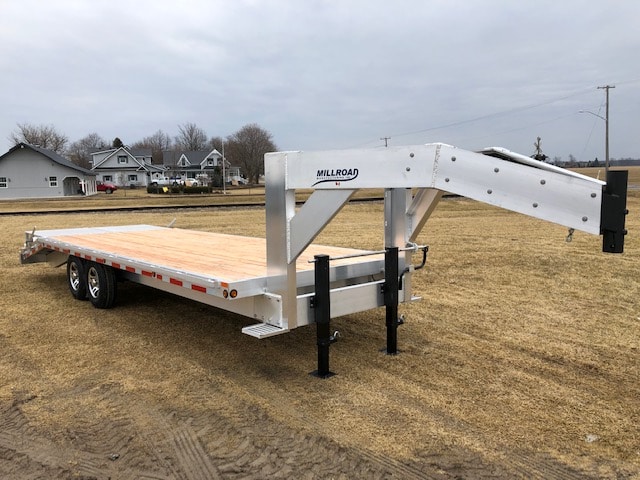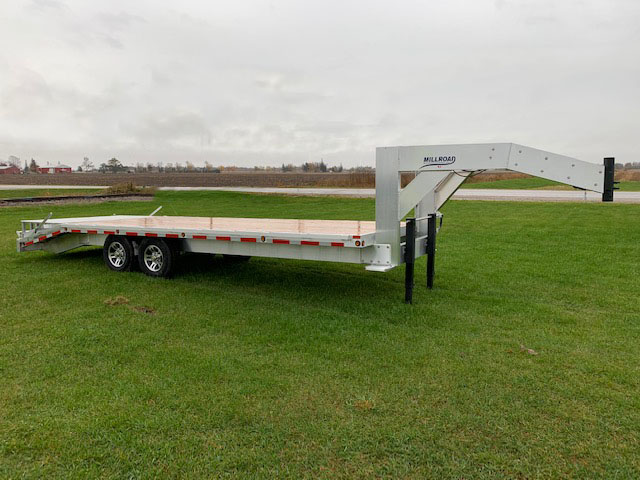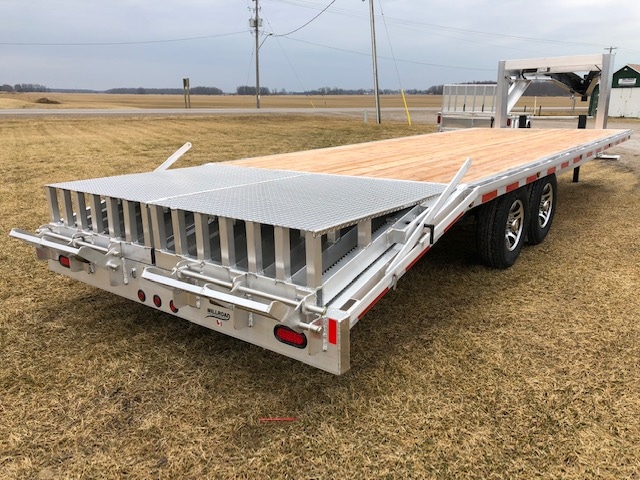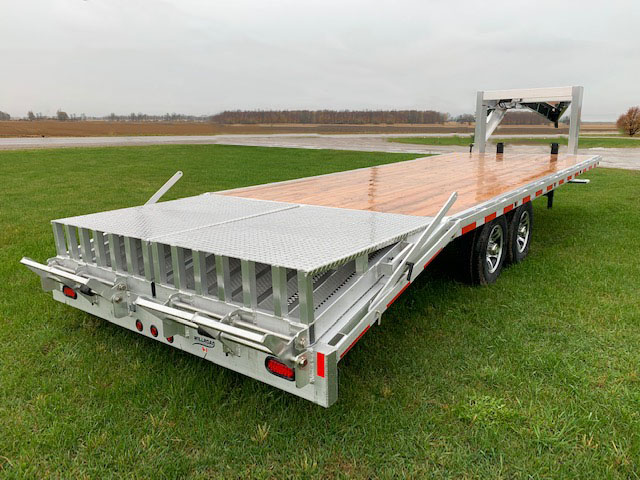 MGN30-10 w alum. rims and full width flip over ramps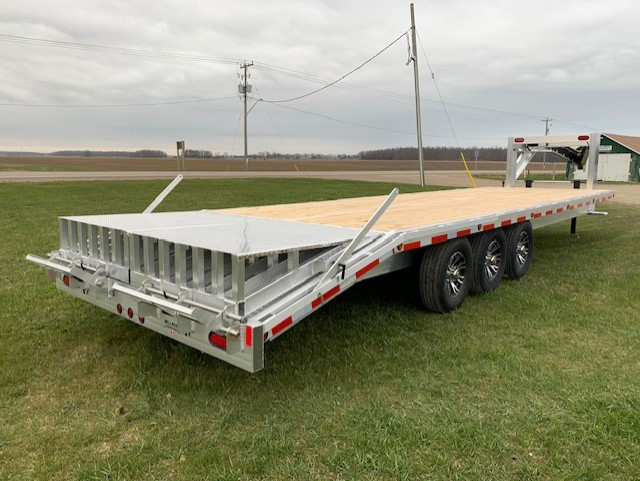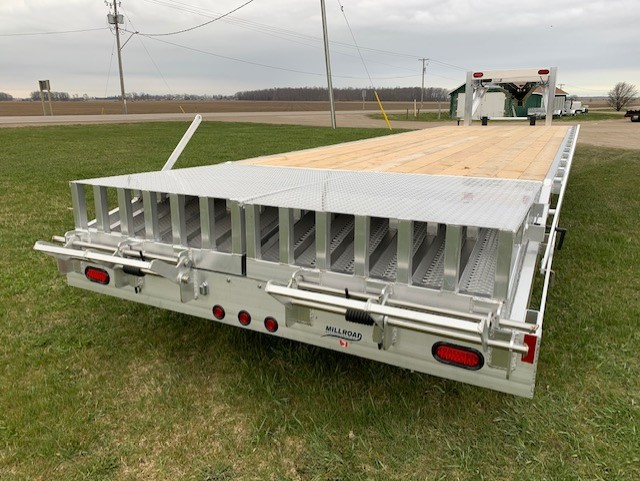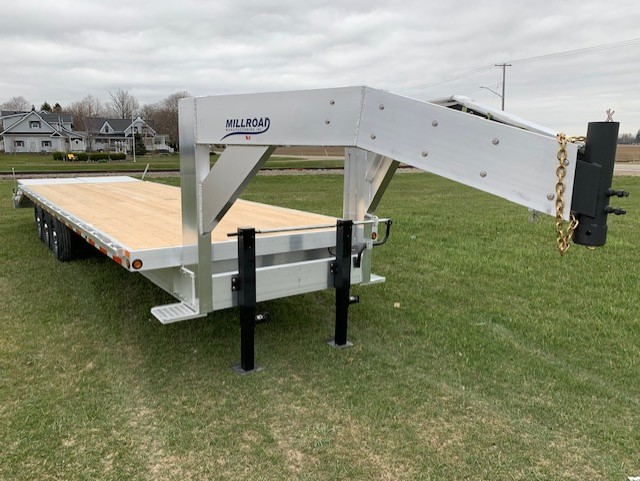 MGN30-10_with full width flip over ramps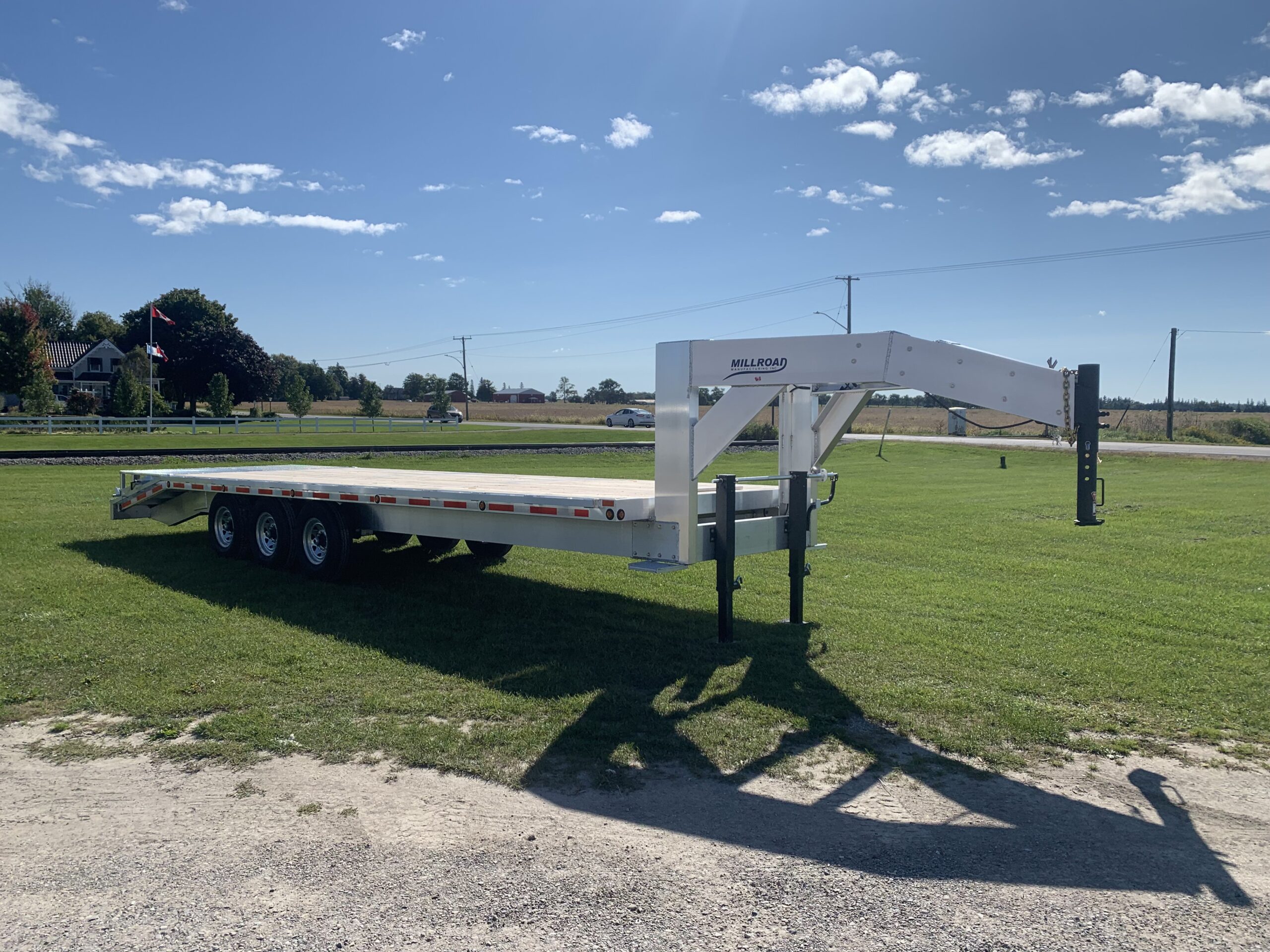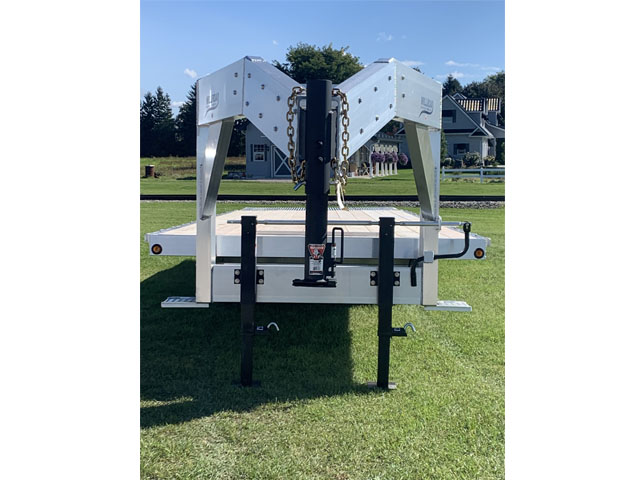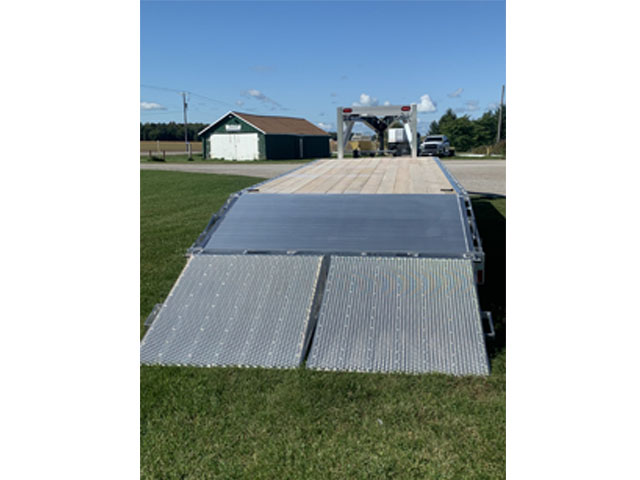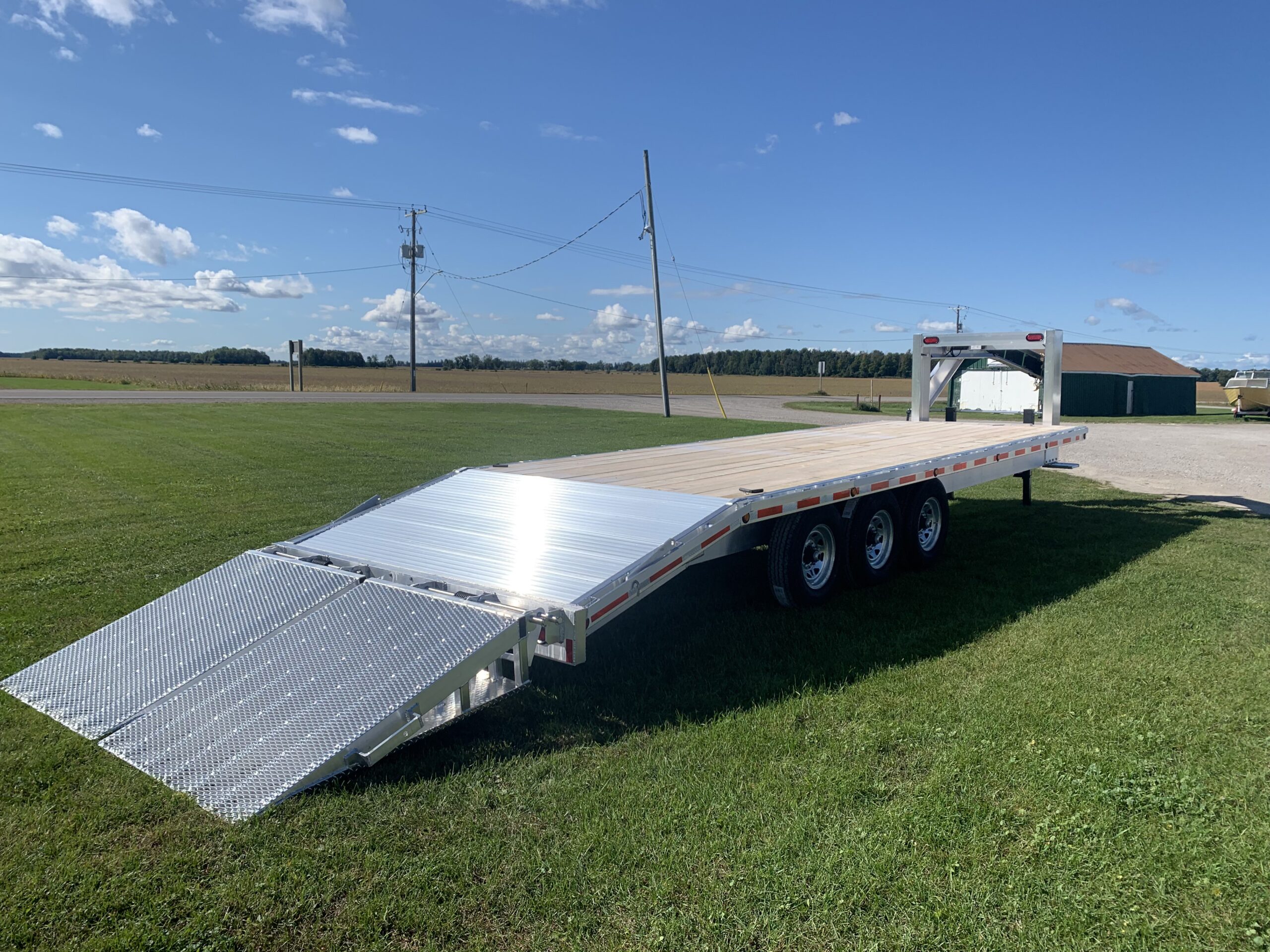 MGN30-10 W_ TOOL BOX & MOUNTED SPARE TIRE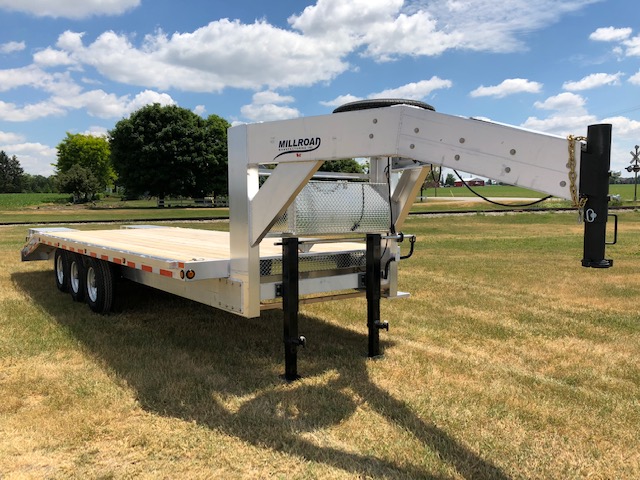 MGN30-10 walum. rims and full width flip over ramps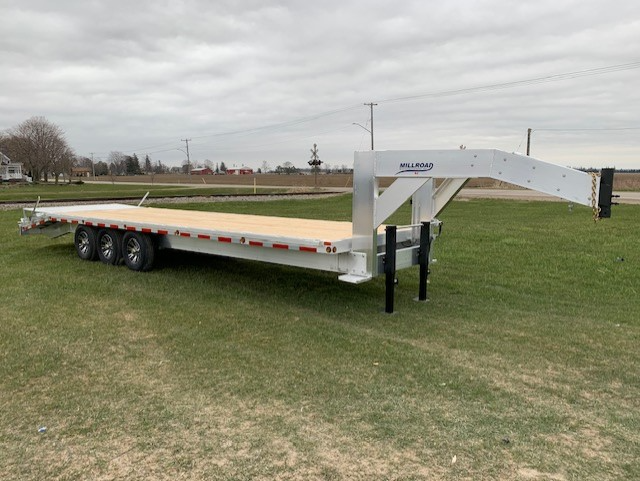 MGN32-10 W_ FULL WIDTH FLIP OVER RAMPS, ALUM RIMS TOOL BOX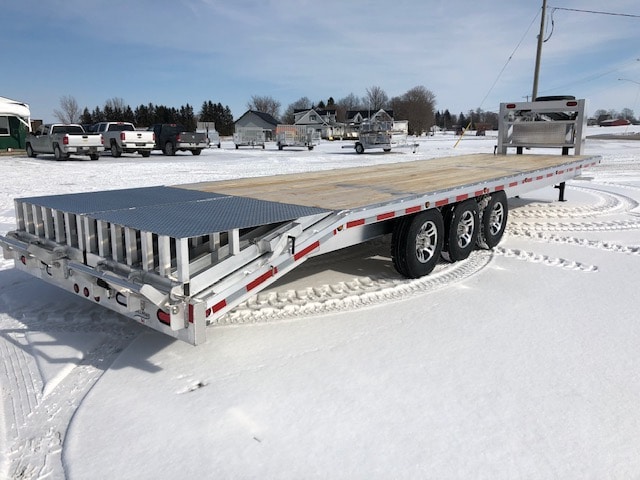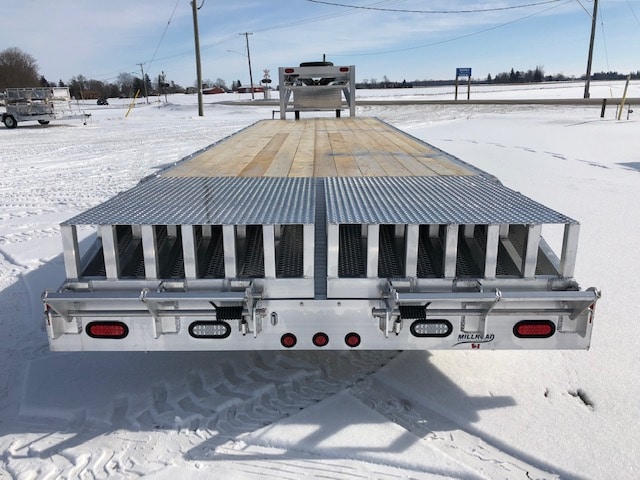 MGN30S-10 W_ PLATFORM ONTOP OF GOOSENECK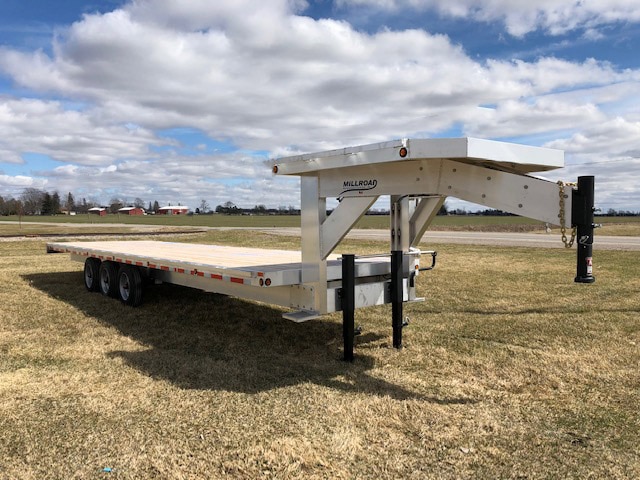 MGN30S-10 w_ underdeck toolboxes and front shield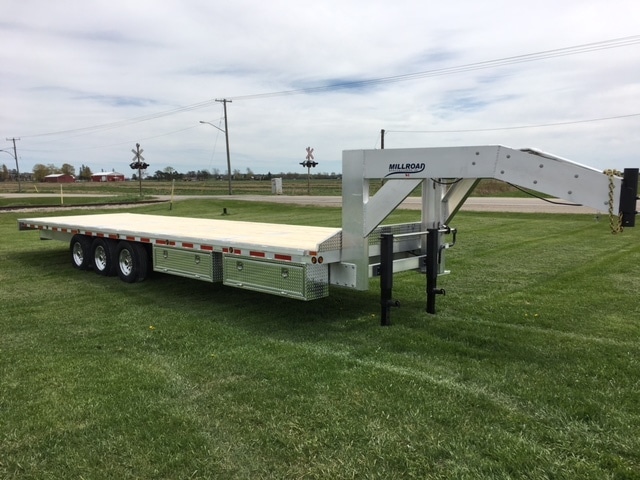 Previous
Next
Pause
There are many reasons to invest in our trailers. Whether you want a gooseneck or fifth wheel hitch design, these trailers offer far more load capacity and maneuverability than traditional hitch designs. Here are just a few advantages you'll enjoy when you choose a Millroad gooseneck or fifth wheel trailer:
Heavy-duty frame

Full aluminum structure

Precision gussets and cross members

HD outside bed caps

Extra-thick rub rail

Dexter Torflex axles

LED lighting
Choose a gooseneck between 20 and 40 feet to haul construction materials, landscaping equipment, vehicles or large furniture. Whether you need help around the farm, on the job or at your home, you'll love the innovative design features of a gooseneck or fifth wheel trailer. Thanks to the dynamic aluminum design, our trailers last longer with less maintenance than the competition. Aluminum is lighter than steel and doesn't suffer from oxidation and rust like steel. Enjoy low-maintenance trailer designs that can outlast your pull vehicle.
We work with industry-leading TorFlex EZ Lube axles by Dexter. These axles don't require the same maintenance as other designs, so you won't have to worry about constant maintenance, inspections or frequent greasing. Enjoy LED lighting with a limited lifetime warranty for reliable, efficient brake lights to keep you and other drivers safe.
A gooseneck is a popular hitch option for commercial transportation, while a fifth wheel is preferred by many trailer owners for convenient installation and hookup. Compare trailer lengths, widths and axles to find the ideal option at a dealer near you. There are many add-ons you can choose to personalize your trailer. Here are some great options we offer to customize your gooseneck or fifth wheel:
Beaver tails

Toolboxes

Additional lighting

Adjustable winch tracks

Tie-down points

Storage deck

Full hydraulic deck
Purchase these add-ons with your trailer or purchase them separately to upgrade your current Millroad trailer. These accessories are designed to help you tackle any project with your new trailer. Can't seem to find a safe place to tie down your equipment? Add new tie-down points or an adjustable winch track for convenient loading and unloading of skid steers, lawn equipment, off-road vehicles and more.
Custom Options
Can't find a design that works for your project? Our team designs and fabricates all of our trailers, so we can create a truly personalized option for your project. Order a custom trailer today and work with our design team to create a trailer to your exact specifications. Our customization process offers top-to-bottom personalization. Choose your tires, axles, brakes, bed dimensions and other features for a truly unique trailer. Enjoy either a gooseneck or fifth wheel hitch design for convenient hauling and heavy-duty pulling power.
Discover the Millroad Manufacturing Difference
Contact a dealer near you today to learn more about the unique advantages of a Millroad Manufacturing gooseneck or fifth wheel trailer. Compare our innovative designs, high-quality features, and affordable prices with the competition to discover why we're your leading trailer manufacturer in Ontario. Work with our friendly customer support team to find the perfect trailer for your home, your farm or your company.