Why Choose Aluminum for Your Custom Trailer
If you're looking for a durable custom trailer material, aluminum is a popular option with many benefits. Find out why manufacturers are choosing aluminum for rugged vehicles and components. If you've only used a steel trailer, prepare to be blown away with these top qualities of aluminum designs.
Lightweight Convenience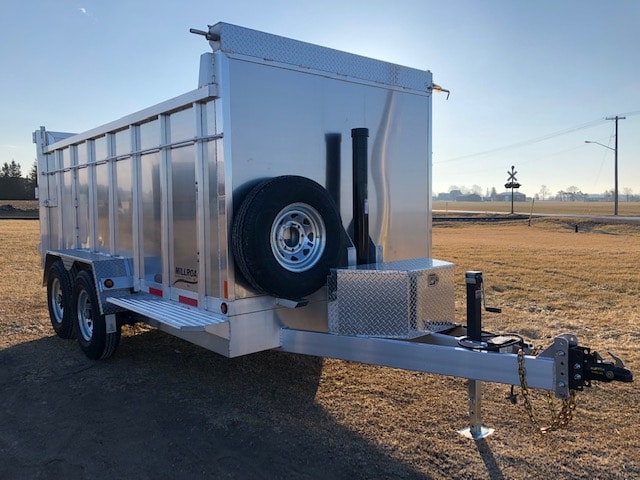 Aluminum is 40% lighter than steel. Depending on the type of trailer you choose, the material can be a significant amount of the overall weight. Don't let a heavy trailer limit your hauling weight. Steel trailers are easy to overload and often too heavy for SUVs or cars.
When you choose a small, lightweight aluminum trailer, you can even pull it with your car. Don't let trucks have all the fun of hauling supplies, tools and furniture. Load up your SUV and see what it's capable of.
Don't let the low weight rating fool you; aluminum trailers are still just as tough and reliable as steel. This doesn't mean they come with a reduced weight rating or holding capacity. You can still haul all of your heavy-duty items and materials without damaging your trailer.
Rust-Free Maintenance
Steel trailers rust. It is a frustrating reality that often reduces the lifetime of your trailer. Aluminum, however, is corrosive resistant. This means you won't have to worry about rust as you tow it down salt covered roads in the winter time.
Natural corrosion resistance is also a huge maintenance benefit. Steel trailers come with the frustrating and costly maintenance task of repainting and resealing. Raw steel rusts quickly, so a steel trailer needs to be painted. As the paint wears, chips and cracks, you need to quickly reseal your trailer or it will start to rust and corrode.
Not only is this maintenance time-consuming, but it can also be expensive. Quality trailer paint is a significant investment, so your steel trailer maintenance costs can really add up.
Durable Designs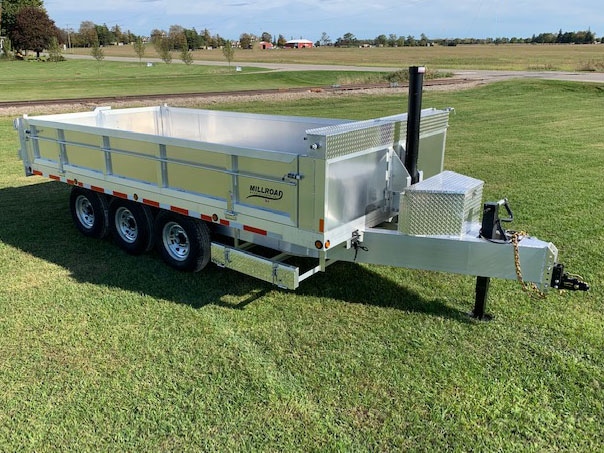 Alloyed aluminum has the same strength as steel at a fraction of the weight. Don't think that this corrosion-resistant, lightweight material is sacrificing on pure hauling power. Whether you choose a landscape, flat deck, deckover, gooseneck or dump trailer, you can expect the same power and convenience as your old steel trailer.
Haul your commercial lawn care equipment, construction materials or landscaping mulch and topsoil with a custom aluminum trailer. Virtually any transportation need can be covered by these dynamic trailers. Whether you're moving a couch to a new home with your car and a lightweight trailer or you're hauling a full load of two skid steers and other construction equipment, choose an aluminum trailer for unbeatable performance.
Industries Choosing Aluminum
At Millroad Manufacturing, we know we're not the only ones switching to aluminum. Here are just a few industries that are making the switch for its many benefits:
Aluminum is a powerful substance that can be made to handle a range of rugged applications. If you are tired of your rusted steel trailer that you continually have to repaint, it's time to make a change.
Custom Millroad Trailers
Our reliable trailers come in a range of types for all your transportation needs. Choose a trailer that matches the length, load limit and design you need, or work with our team to design your own trailer. Handle any commercial or DIY project that comes your way with these reliable pieces of equipment.
Work with a premier custom trailer manufacturer in Ontario for industry-leading performance. Contact us today to learn more about our custom trailers at Millroad Manufacturing. Take advantage of all the benefits of aluminum construction for a durable, lightweight and corrosion-free trailer.