Our Custom Aluminum Trailers Are Designed and Built in Canada
Haul your snowmobiles out or gear up for a full week of work with your landscaping company with a Millroad trailer. Our durable trailers are proudly made in Canada for people who love the outdoors. Choose a custom aluminum trailer that keeps up with your long work week and helps you create memories over a long weekend. Discover how our trailers compare with others and learn how you can find a Millroad trailer near you.
Canadian Designs for the Canadian Landscape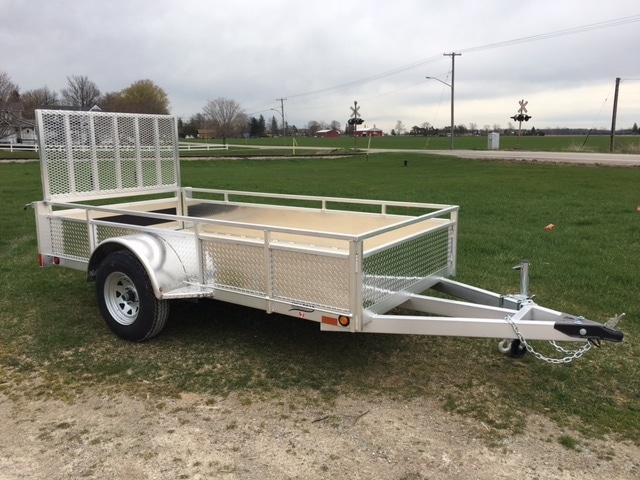 From the smooth, straight highways to unmarked, uneven trails, our trailers are designed for the Canadian landscape. Lightweight, rugged aluminum trailers offer you the hauling capacity you need. Pack up your ATVs and camping gear and head north or strap down a few skid steers to move to a new construction project.
Don't let an unexpected pothole ruin your weekend trip. Reliable Torflex axles protect your trailer on even the most unforgiving Canadian road trip. For local commutes, an aluminum trailer is lightweight and won't affect your fuel economy like other, heavier trailers.
Aluminum trailers are perfect for areas of heavy snowfall. Road salt and excess moisture from ice and snow can quickly rust and damage a steel trailer. Aluminum, however, is naturally corrosion-resistant and perfectly suited for our harsh Canadian winters.
Reliable Trailer Styles for Your Lifestyle
Because of the diverse ways you can use a high-quality trailer, we've designed reliable trailers for all types of transportation. Here are the basic ways you can enjoy reliable, convenient hauling power:
Compare the weight rating, dimensions and additional accessories of these popular trailer types to prepare for any adventure. If you don't find the right trailer for your needs, create a custom trailer with the help of our design and fabrication experts.
Look for a versatile design to handle all your hauling needs, or enjoy specialized trailers for work and play. All of our trailers are built with the same great materials, but they come in different dimensions and with excellent accessories for specific projects.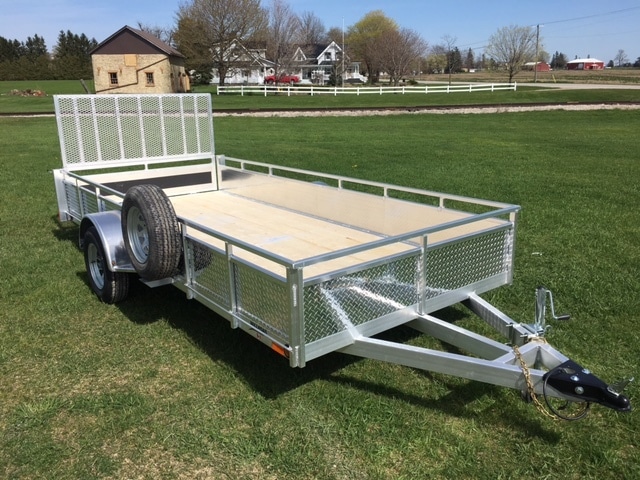 A dump trailer is perfect for construction professionals to handle jobsite waste. Deckover trailer provides maximum storage width, while a gooseneck trailer is great for long trips and heavy loads.
Not all trailers are created equal. Some trailers use axles that aren't designed for bumpy roads or heavy loads. Not only do Torflex axles offer uncompromising hauling capacity, but they're easy to maintain. Just like the rest of your Millroad trailer, the axles are perfectly suited for our beautiful Canadian landscape and diverse outdoor interests.
Dependable Construction for All Your Travels
After 25 years of professional trailer construction, our team has learned a few things about quality trailers. From the aluminum body to the soldered, shrink-wrapped electrical connectors, we put all of our expertise into every trailer we make. Don't settle for any trailer, but enjoy a trailer that's built to last a lifetime.
When you're ready for a new adventure, pick up additional accessories to optimize your trailer. Add a kayak rack to your utility trailer or install additional tie-down points on your deckover trailer. These small features can make a big difference as you haul unusual objects or heavy loads.
Find the Best Trailer for Work or Play
Find a dealer near you or contact us today to learn more about dependable Millroad Manufacturing trailers. Our aluminum trailers come in a wide range of styles and lengths. If you don't find the perfect trailer for your professional or personal needs, ask about a custom trailer design. Alter the length, width and axle type of your aluminum trailer to enjoy an industry-leading, Canadian-made trailer.