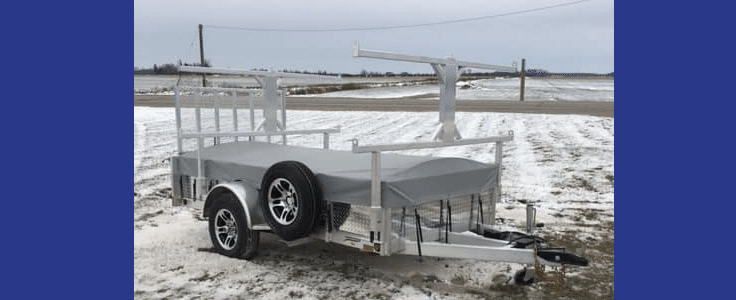 Ways To Customize Your New Trailer
An aluminum trailer is great for a variety of projects. Whether you're hauling dirt and construction materials at a job site or preparing for a weekend away with your favourite off-road vehicles, find out how to get more out of your trailer. Shop for a custom aluminum trailer or affordable add-ons to take your existing trailer to the next level.
Personalize Storage Solutions
A common complaint that trailer owners have is the storage situation. Some trailers just don't seem to have enough cargo space, while others are missing some much-needed organizational features. At Millroad Manufacturing, we have the accessories you need to tailor your trailer storage space to fit your work or play needs. Here are a few popular accessories to add to your trailer:
Walls

D-rings

Ramps

Kayak racks

Enclosures

Shelves

Spare tire mount
Walls are one of the most popular features to keep your items in place. An open-deck trailer may be easy to slide things on and off, but a lack of walls means you'll need to spend more time ensuring every item is completely tied down. Our innovative wall designs allow you to unlatch and lower them, so you can still enjoy a conveniently open deck.
Sidewalls can't always ensure your cargo won't blow away. For that, you need tie-down straps and D-rings. These sturdy tie-down points keep your equipment firmly locked in place.
A new set of ramps allows you to use your trailer to haul new equipment. Pick up a set of ramps designed specifically for snowmobiles, dirt bikes, skid steers or other equipment. The right ramp style gives you confidence in loading and unloading heavy equipment safely.
Kayak racks, shelves, spare tire mounts and fully enclosed trailers are all specialized features. Pick up one or more of these accessories if you don't need a versatile trailer but instead want the best in specialized transportation. These components separate the space of your trailer bed and allow you to store specific items in a way that's safe and convenient.
Increase Weight Limits
Is your trailer tipping the scales? Excess weight is one of the most common ways to damage a trailer. Even a dependable aluminum trailer from Millroad Manufacturing has its limits, so be sure to weigh your cargo and compare it against the recommended axle, tongue and overall weight limits of your trailer.
For heavy-duty loads, ask our team about custom solutions. Prepare for extreme loads with a dual-axle or triple-axle trailer. Discuss your intended projects with our design team to see how we can reinforce your trailer and prepare it for the intense demands of your workload.
Your braking system is another way you may need to alter your aluminum trailer. Our trailers come with electric brakes, but we can also install hydraulic brakes. Auxiliary braking systems increase the safety of your system and help you get to your next job site.
Add Style
A custom aluminum trailer needs to shine. If your rims, toolbox, flooring, deck plates or other features don't pop quite as you want, work with a quality manufacturer to enjoy cutting edge style and dependable quality on any trailer accessory. These trim pieces not only improve the performance of your favourite trailer, but they also add a personal sense of style.
Enjoy a Custom Aluminum Trailer With These Accessories
Don't settle for anything less than your ideal custom aluminum trailer. Contact us at Millroad Manufacturing to discuss any accessories you wish to add to your trailer. We're happy to work with you and send you aftermarket components or install any of these accessories to your trailer to enjoy a brand-new trailer ready for your next hauling and storage project.