Great Landscape Trailers for Your Backyard Project
Get ready for a busy spring with backyard projects, spring cleaning, and home maintenance. Whether you're planning a major DIY project or getting ready to start your garden, a landscape trailer is a perfect tool for your outdoor projects. Find out why you need a Millroad landscape trailer for all your tasks around your yard and garden this spring.
Accomplish Backyard Projects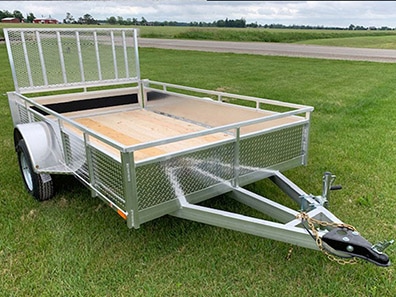 When a truck bed just doesn't cut it, a landscape trailer has the spacious deck you need. Tackle these common projects around your home or job site and make it safe and easy:
Fence building

Deck building

Shed construction

Gardening
Our landscape trailers are also known as utility trailers because they are so versatile. Hauling construction materials, mulch and other items around your yard or on the job site can be expensive and frustrating without the right trailer. Thankfully, we have a wide range of trailer sizes for major or minor DIY or professional projects.
A trailer is a standard workhorse of a farm or construction site. Even if you have a small yard or garden, you can still benefit from a versatile trailer. Use it to haul furniture to college for your kids, or load it up with your lawn care tools and head to your summer cottage. If a neighbour needs to borrow your lawn mower or other equipment, pack it up and deliver it yourself.
Haul Materials Safely
A flatbed trailer or open-sided trailer won't hold in mulch, topsoil or other loose materials. Our standard landscape trailers include 18-inch sides to hold any loose fill. Simply check the weight rating, and load it up. Strap a tarp over the top, and head down the road with confidence.
Sidewalls and durable tie-down points make it easy to haul bulky items too. Strap down a lawn mower, motorcycle or lumber and drive safely knowing you won't trail items down the highway.
Not only is it safe to haul materials in our trailers, it's also more affordable. Avoid expensive shipping costs, and head to the supply house yourself. Pick up gardening supplies, lumber and furniture on your own to save on expensive shipping fees.
Find a Trailer That Fits Your Vehicle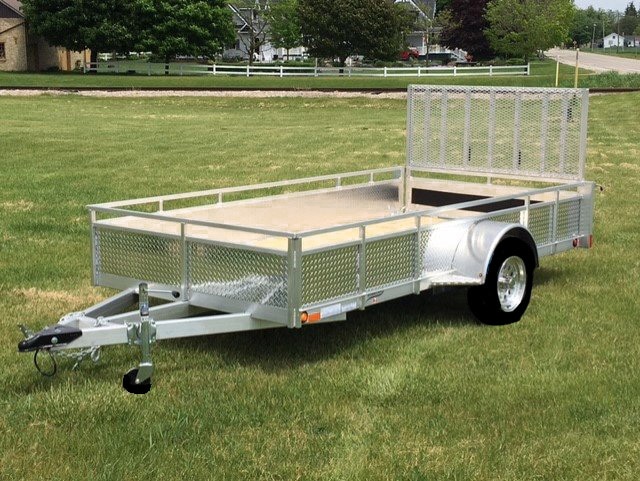 Most trailers are too substantial for anything but a heavy-duty truck to safely pull them. If you have an SUV or car, you need a lightweight trailer to haul materials. At Millroad Manufacturing, we have a range of small utility trailers that fit your needs.
Our trailers are made of sturdy, lightweight aluminum, meaning our smaller trailers can be pulled safely by any car. Just check that you have the right hitch setup, don't overload your trailer and hit the road.
Choose a Reliable Trailer
From our industry-leading axles to a generous deck and durable design, Millroad trailers are reliable for all your professional and DIY projects. Get out and enjoy your property this spring, and take on a landscape or construction project you've been thinking about all winter.
If you don't see a landscape trailer that fits your needs, build a custom one. Our manufacturing team can work with you and create a new trailer to your exact specifications. Choose 48-inch walls for heavy loads of mulch, or alter the length and gate to accommodate your equipment.
Learn More About Millroad Landscape Trailers
If a reliable trailer is all that's holding you back, contact us today. Work with Millroad Manufacturing to solve your hauling problems, and prepare to enjoy your shed, fire pit or landscaping all spring and summer. Tackle all the outdoor projects on your spring to-do list so you can spend your summer enjoying your yard, garden, and outbuildings.