Taking a Closer Look at Millroads Custom Gooseneck Trailers
If you're looking for a trailer to haul heavy equipment or materials, consider a gooseneck trailer. These powerful designs have a few key benefits when compared to standard hitch trailers. Find out all the advantages of using a gooseneck and learn how Millroad Manufacturing can customize a trailer for your work or DIY project around your property.
What Is a Gooseneck Trailer?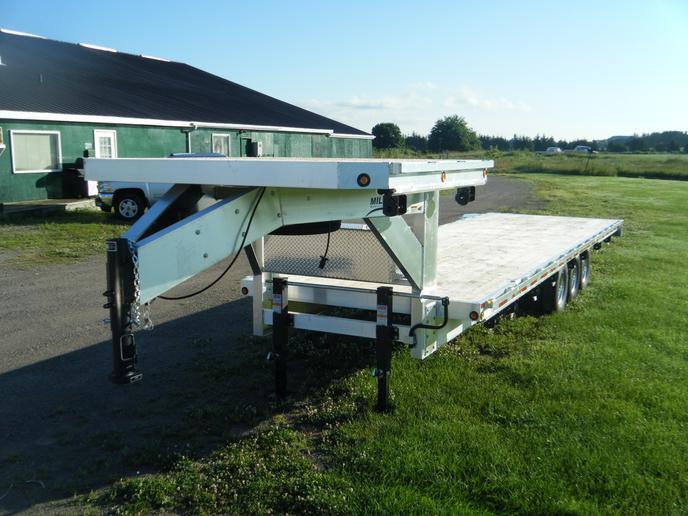 The name comes from the hitch design of these impressive trailers. Extra-large trailers and heavy loads require a specialized hitch to safely travel down the road. A gooseneck trailer uses a unique hitch that connects to your truck's frame in your truck bed. There are a few different designs of hitches, but nothing compares with a gooseneck in terms of durability and safety.
Benefits of a Gooseneck
Here are some key reasons why you should consider this trailer design for your professional or amateur hauling. Compare these features with other designs to see what makes this one so special. If you're looking for heavy-duty hauling power, a fifth wheel promises to outperform your flat deck or utility trailer. When you choose an aluminum fifth wheel trailer, you will enjoy the corrosion-resistant performance and the lightweight, durable design.
Longer Trailer
A sturdy gooseneck allows you to pull longer trailers. At Millroad Manufacturing, we can build one up to 35 feet in length. This gives you far more storage space than a flat deck trailer, which typically maxes out around 24 feet. A longer trailer makes it easy to haul skid steers, long materials, bulky furniture or other items.
Higher Weight Limit
This specialized hitch type can handle up to 25% of the load, compared to just 10% of most common hitch designs. A higher hitch weight limit translates to better weight distribution and a higher overall hauling limit. Don't let a heavy load put you at risk but enjoy safe, efficient hauling instead.
Convenient Hitch
Once you install the hitch in your truck, you'll find it's much easier to attach and maneuver a fifth wheel trailer. The kingpin-style hitch allows you to back up and turn with greater freedom. If you're worried about backing up your trailer or jackknifing, choose a gooseneck next time.
Reduced Risk of Theft
Too many trailers are stolen off job sites and personal property. Don't let your trailer walk off but choose one that's difficult to steal. If someone doesn't have the proper hitch setup, they won't be able to drive off with your fifth wheel trailer.
Handling a Gooseneck Trailer
Before you start hauling a gooseneck, you'll need to install the hitch in your truck bed. A fifth wheel is easier to turn, park, hook and unhook than a conventional ball hitch. Once you switch from a conventional hitch to a gooseneck, you won't want to go back.
Options and Accessories
Pick up all the gear you need to get the most out of your fifth wheel trailer at Millroad Manufacturing. Customize your trailer with beaver tails or straight deck options. Find the ramps you need to pull your skid steers, landscaping equipment or other items on your trailer. You can even choose a full hydraulic tilt deck for a dynamic fifth wheel option. Finally, lights, storage boxes, winches and tie-down points finish out the wide range of accessories available for your trailer.
Learn More About Millroad Trailers
Keep your truck fully equipped for any challenge. Contact us today at Millroad Manufacturing to learn more about our aluminum gooseneck trailers. Find a long-lasting model at a local dealer or order a customized trailer that fits your exact specifications today.