Electric or Hydraulic? Choosing Brakes for a Gooseneck Trailer
Cruise down the road with your gooseneck trailer and quality brake systems. One of the most important safety features on any trailer is its brakes. Most trailers come with either electric brakes or hydraulic brakes. Compare these two options and pick the best one for your new trailer from Millroad Manufacturing.
How Electric Brakes Work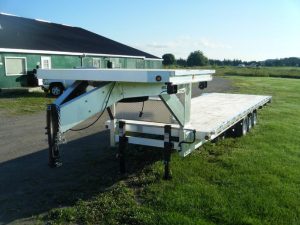 Electric brakes connect to the electric brake controller in the vehicle. As you press on the brake pedal of your vehicle, it activates both your regular brakes and your trailer brakes. It also activates your trailer brake lights.
If you're familiar with standard brake systems, you'll find that electric trailer brakes look a lot like typical drum brakes. These brakes are much more common in modern trailers. Our team at Millroad Manufacturing recommends electric brakes for most gooseneck trailers. You'll enjoy more control of your brakes and experience a more convenient, controlled stop.
Electric trailer brakes use two brake shoes for each wheel. These half-moon shaped shoes are loosely fastened to a brake backing plate to create an almost-full circle. They rest against an actuating arm, which has an electromagnet attached to the lower end.
A brake drum, which is a round drum that looks like a cake pan, is machined smooth on the inside. When you apply pressure to your brake pedal, the brake shoes push against the inside of the brake drum. This process slows your vehicle down gradually, similar to traditional brake pads and rotors.
Because electric brakes require a brake controller, they aren't available for everyone. Most newer trucks and other vehicles come with an electric brake controller, but if your vehicle doesn't have one, you may need to switch to hydraulic brakes.
How Hydraulic Brakes Work
Hydraulic brakes are another common brake option for trailers. A trailer with hydraulic brakes can be safely pulled by any vehicle with the right hitch and towing capacity, even if it doesn't have an electric brake controller. Some individuals prefer this flexibility and choose hydraulic brakes for their trailers.
Even old trucks can pull a trailer with hydraulic brakes. A hydraulic system means that, regardless of the equipment on your truck, you can safely pull and stop your trailer. Hydraulic brakes used to be standard when electric brake controllers weren't as common.
However, we don't recommend hydraulic brakes for our gooseneck trailers and fifth wheels. Hydraulic brakes are an aggressive stopping mechanism and offer less control of your stopping power. This can cause issues with safe, smooth stopping. If you have the ability to upgrade to electric brakes, consider using these to safely travel with your fifth-wheel trailer. Electric brakes are a more gradual, safe braking solution. Stay in control of your trailer, even if you need to make an emergency stop, with electric brakes.
Custom Trailers by Millroad Manufacturing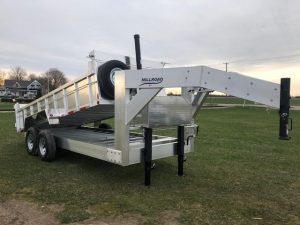 Choose your favorite style of brakes and other features with a custom gooseneck/fifth-wheel by Millroad Manufacturing. Our team of designers and manufacturers create high-quality custom aluminum trailers for a variety of uses. Whether you're hauling snowmobiles and ATVs to your favorite vacation spot or hauling heavy loads to your professional jobsite, a gooseneck trailer offers the reliable pulling power you need.
Select the length, width, axle options, brakes and other features of your custom trailer to enjoy the best trailer for your needs. Whether you prefer hydraulic or electric brakes, our custom aluminum fifth-wheel trailers can be geared up to your tastes to provide reliable stopping power.
Choose the Best Option for Your Gooseneck Trailer
Learn more about your gooseneck trailer options. Contact us to discuss more pros and cons of each brake option and discover how you can enjoy a premier trailer designed to fit your lifestyle or professional project. Search for a dealer near you to enjoy unbeatable Millroad quality.