Essential Maintenance Tips for Landscape Trailers
A Millroad landscape trailer is a great way to haul your compost, mulch or other fill material. It's also handy for moving your ATV, snowmobile or other toys. Whether you're gearing up for a fun weekend or another day on the job, here are some essential maintenance tips for your landscape trailer. Follow these maintenance tips to enjoy a long-lasting, convenient Millroad trailer for all your work and weekend projects.
Visual Inspection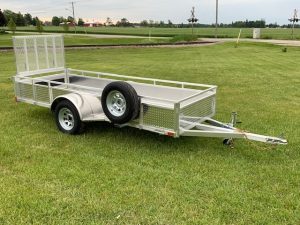 The first thing you should always do before you hit the road is perform a visual inspection. Most maintenance issues are fairly obvious, so a quick walk around your trailer will give you a good idea of how it's operating. Don't go tearing out of the driveway without checking that your gate is up, your trailer's attached and it still has all its wheels. Here are the basic areas you're looking at when you perform a visual inspection:
With a Millroad trailer, this process shouldn't take long at all. A high-quality trailer has less to worry about, and each component is designed to make your life easier. Inspect these three areas, and prepare for a full day of work or an unforgettable weekend enjoying your favourite off-road vehicle.
Check Your Tires
Spend some time doing a further check to make sure your trailer is operating at peak efficiency. Check out your hubs, and grease them once or twice a year. Check your tire routinely, especially when the temperature changes. Inspect your lug nuts during the first 1,500 kilometres, as they may loosen slightly with use.
Test Your Lights
Your lights are another area that need to be checked to be sure your landscape trailer is safe and ready for the road. Don't just look for a cracked lens, but turn on your vehicle and test that your brake lights and other signals work properly.
Thankfully, your Millroad trailer uses sealed harnesses and recessed lights, so you won't have the same moisture and electrical issues that other trailers may experience. If your lights aren't working properly, check the electrical connection between your truck and trailer and the connectors at your lights.
Check Your Load
Did you remember to tie down your ATV or secure the gate? It's far better to check now than to realize you forgot a step as you're driving down the highway. Inspect your load, and be sure that it's properly distributed. Loose material can shift as you drive, so you may need to smooth it out again to avoid fishtailing and other hazards.
What You Don't Have To Inspect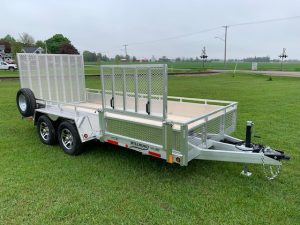 Here are some inspection areas that you would have to worry about with another trailer. Fortunately, you've chosen a Millroad trailer, so you don't have to worry about springs, bushing and other moving parts on your axles and hubs. Dexter TorFlex axles use a self-contained suspension system and include EZ Lube hubs.
These impressive axles not only save you time on your routine inspections, they also reduce the chance of damaged components. There's nothing worse than equipment issues that stall your project and take away productive time. At Millroad Manufacturing, we use these highly efficient axles to make your life easier and reduce downtime while you work.
Hit the Road With Millroad Landscape Trailers
Cruise down the road with your favourite standard or custom landscape trailer by Millroad. Contact us today to learn more about signs of repair issues, maintenance tips or to order your brand-new landscaping trailer. Get more out of your trailer with reliable construction, spacious designs and unbeatable convenience. Follow these simple maintenance tips and drive confidently with a premium standard or custom aluminum landscape trailer expertly crafted in Ontario.