How a Dump Trailer Can Help Your Business
Haul your materials, equipment, and waste efficiently with a professional dump trailer. If you work in the landscaping, construction or roofing industries, a dump trailer is a must-have piece of equipment for your daily projects. Homeowners, farmers, and other individuals can also find convenient ways to use a dump trailer around their property. Explore these popular ways that a dump trailer can help your business and look for an affordable dump trailer for sale by Millroad Manufacturing.
Affordable Landscaping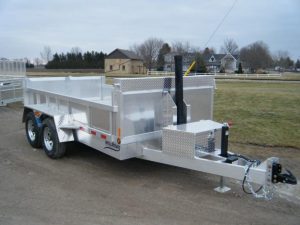 Professional landscapers need to haul yards of mulch and topsoil to their job sites. Many landscapers turn to dump trucks to haul these heavy loads. A dump truck is far more expensive than a dump trailer and may be too large and bulky to safely navigate residential driveways.
Landscapers can also use a dump trailer to haul their equipment. Put a lawnmower and your other tools in your dump trailer and use additional ramps to safely lower your heavy tools. An affordable dump trailer is great for handling all types of work projects.
Add additional tie-down points to your dump trailer to double as a landscape trailer. Durable tie-downs allow you to safely haul heavy equipment without worrying about shifting loads.
Rugged Construction Services
Jobsite waste is a serious hassle for construction companies. Whether you're remodeling a home or working on a new construction, handling all that waste can be costly. Most construction companies rent dumpsters or trailers to load up garbage and scrap.
Invest in your own trailer and haul it to the nearby dump to save money on all your projects. A dump trailer can easily navigate your construction site and be placed exactly where you need it for convenient disposal of damaged materials.
Reliable Roofing Projects
Roofers face a similar problem. Shingles and roofing nails create a mess. If you can't carefully position your dumpster, you may have to spend time picking up waste materials off the ground. A dump trailer can be parked directly beside most buildings for easy loading. Once it's full, drive straight to the dump and quickly unload your trailer to get back to work.
Everyday Hauling Convenience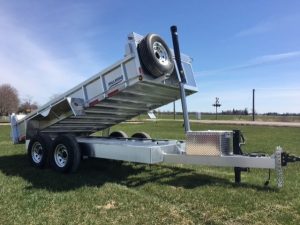 Dump trailers are just as useful at home as they are on the job. If you need to dump more gravel on your driveway, haul furniture to a resale shop or move materials around your farm, a dump trailer is the perfect piece of equipment.
If you're a DIYer at heart, you can take advantage of all the professional conveniences of a dump trailer combined. Use it for your own landscaping, construction and roofing projects around your property. Because a dump trailer is so versatile, you don't have to stick with one project or type of work.
Designing a Custom Trailer for Your Business
Dump trailers come in a range of sizes and styles. As you shop around for the best dump trailer type, choose a custom trailer for tailored convenience. Pick the length, width, axle type and accessories you need to make the most of your dump trailer. For extra-large loads, choose a tilt trailer instead of a dump trailer. A tilt trailer can come in sizes ranging from 8 feet to 48 feet, while a dump trailer can be between 8 feet and 16 feet long.
Discuss Your Trailer Needs With Millroad
At Millroad Manufacturing, our premier aluminum dump trailers are reliable, lightweight and capable of improving your business in a number of ways. Work with our team to design a custom dump trailer specifically for your business, or find a dealer near you for an affordable, standard dump trailer. Move all your essential materials, equipment and waste products with a convenient and affordable trailer.