Choosing the Right Landscape Trailer for a Lawncare Business
Improve your lawn care business with a brand-new landscape trailer. Find out how a trailer can help you haul your equipment and landscape materials to all your commercial and residential jobs. Find your favourite landscape trailer for sale today or find out how you can enjoy a custom trailer for your lawn care business.
Consider Your Typical Load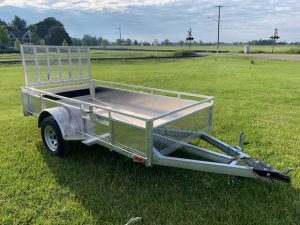 The most important feature of your trailer is its load capacity. Compare the weight rating and bed dimensions of a landscape trailer to determine whether it fits your needs. Do you have a single lawn mower and some hand tools, or do you need to haul two mowers or tractors?
If you maintain flower beds and other areas as part of your lawn care business, you need a landscape trailer that can also fit a load of mulch or topsoil. Look for a durable trailer with sides and rust-resistant construction to safely haul these loads. Find a trailer that is wide and long enough for your typical load, but not too big to be inconvenient. At Millroad Manufacturing, our trailers come in a range of widths, from four feet to six feet, eight inches. Choose the ideal length to store all your equipment while still navigating residential streets.
Find a Safe Trailer
Safety is your top concern as a business owner. A safe trailer is one that has these features:
Reliable brakes

Bright tail lights

Sturdy tie-down points

Room for a typical load
Choose either electric or hydraulic brakes for your landscape trailer to safely travel from job to job. If you're navigating busy streets and highways, you need bright and reliable lighting to communicate with other drivers. At Millroad, our trailers have the option of either electric or hydraulic brakes and come with LED lighting that has a lifetime warranty.
If you don't like the tie-down spots on your Millroad landscape trailer, you can easily add more. Our trailers are fully customizable and can include recessed floor ties or additional D-ring ties for custom strapping. Confidently secure your load every time to stay safe and protect your investment.
Don't attempt to cram all your equipment on a small trailer. If your trailer is undersized, it can quickly become overloaded. Choose the ideal trailer size and weight rating for all your gear. That way, you can be confident that you have a safe hauling system for years to come.
Choose a Long-Lasting Design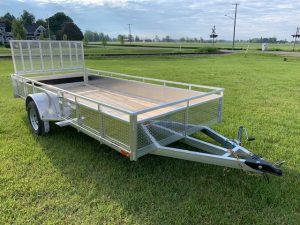 A busy summer can really do a number on a landscape trailer. Invest in a quality trailer that's built to last. Our aluminum trailers won't rust, fade or break as you haul your heavy equipment. Other trailers are prone to rusting. If you're storing your landscape trailer outside during the off-season, you need a reliable trailer that won't fall apart over the winter.
Enjoy Custom Trailers for Personalized Use
Custom landscape trailers are a great option to create the trailer you need. If you have specialty lawn care equipment, customize your trailer to include racks, tie-down points or other features to fit your business needs. A custom trailer is a great way to make an efficient trailer for busy summers.
Design your own trailer gate for your particular need. Our ramps and other accessories make it easy for you to load and unload your lawnmowers and other heavy-duty lawn care equipment. Without the right trailer, it may be inconvenient or dangerous to load and unload your lawn care equipment.
Learn More About Millroad Manufacturing Trailers
For more information about Millroad trailers, Contact us today or find a dealer near you. Our landscape trailers are suited for commercial use and offer the affordable, dependable construction you need. Don't just haul your equipment, but propel your business forward with the latest tools and equipment.