What Accessories Can You Add to Your Aluminum Landscape Trailer?
Are you getting the most out of your aluminum landscape trailer? Landscape trailers are also known as utility trailers because they are great for a range of storage and transportation tasks. Find out more about common and unusual accessories you can add to your landscape trailer, and see how other owners are using their trailers for all types of transportation projects.
Common Accessories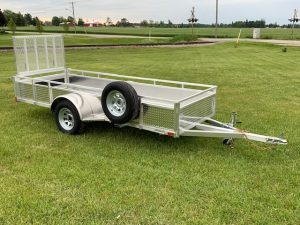 While many landscape trailers are used to move mulch along with lawnmowers and other tools, there are plenty of other ways you can use these versatile haulers. Add a few of these common accessories to conveniently carry other tools and cargo:
Ladder rack
Toolbox
Side ramps
Two-piece ramps
Custom tarp systems
These accessories allow you to bring all your ladders, shovels and other gear to the job without worrying about losing a tool as you drive down the road. Side ramps are great for unloading a lawn mower or ATV from the front of your trailer without removing other equipment from the back.
Other accessories improve safety and convenience. Additional LED light, tie-down bars and additional D-rings or recessed tie-down points are excellent ways to conveniently strap down extra equipment and keep your trailer visible on the road.
If you use your utility trailer for work and play, pick up a custom kayak/canoe rack or bike holder. These convenient accessories keep all your favourite toys secure as you prepare for an unforgettable weekend.
At Millroad Manufacturing, we manufacture a range of standard and custom landscape trailers and accessories. Purchase a trailer with all these accessories included or buy them separately to upgrade your current trailer.
Surprising Upgrades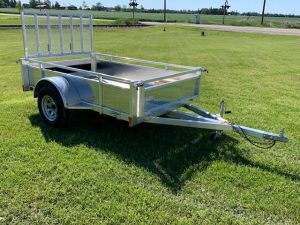 For even more convenience, some owners have created their own unique accessories. Here are some DIY accessories that you can use to add even more convenience to your landscape trailer.
For storing long pipes, drywall corner beads and other materials, many plumbers and contractors use a 4-inch PVC pipe. Use J-hooks to secure a PVC pipe to the side of your trailer. Prime and glue an end cap and cleanout adapter on the ends to create a storage area that keeps all your long, loose materials safely stowed.
Safely load and unload your heavy equipment with a trailer winch. Just like a boat trailer, your utility trailer can use a winch to safely lower and raise heavy equipment. This great upgrade allows you to transport a snowblower, lawnmower or other heavy equipment without a helper to move it.
Versatile Uses for Utility Trailers
These common and surprising accessories offer plenty of ways to use your landscape trailer. Lawncare business owners and landscapers get lots of use out of their trailers on the job, but there are other ways to use yours over the weekend as well. Unload your lawncare equipment and pack up your ATV, snowmobile or other equipment for a fun-filled weekend. Pick up a great deal on a couch, dresser or other furniture and load it yourself to haul it to your home.
If your kids are heading out to a new apartment or to college, pack up all their furniture and belongings to save on trips. A landscape trailer has plenty of space to safely move your teenage son or daughter to college.
Such versatile options make these haulers a great investment for nearly anyone. You don't need to work as a landscaper to enjoy the convenience of a landscape trailer.
Find More Ways To Enjoy Your Millroad Trailer Today
Contact us at Millroad Manufacturing today to learn more about our custom and standard landscape trailers and accessories. Select the ideal length and width for your professional or hobby needs and enjoy a lightweight, reliable trailer to haul all your tools and equipment.