What To Consider When Buying a Deckover Equipment Trailer
A deckover equipment hauler trailer is a great way to haul your equipment and extra-wide materials. However, it isn't ideal for hauling cars. Here are some things to consider when looking to haul your equipment safely with your new trailer. Discover why a Millroad custom deckover trailer is an excellent option for your needs.
Weight Rating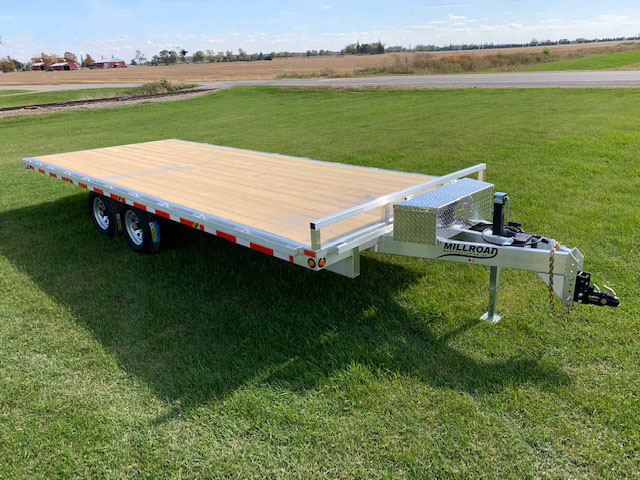 All trailers have a specific weight rating. Before you load up your heavy-duty equipment, check the weight rating to be sure you aren't overloading your trailer. A Millroad trailer is ideal for loading two skid steers or other heavy-duty equipment.
The weight limit relies on two basic factors: the structure of your trailer and the axles. Millroad trailers are made with durable aluminum, so they are a lightweight way to haul heavy equipment. Thanks to Torflex innovative axles and durable spruce board decking, you can enjoy reliable weight limits for most equipment and materials.
Trailer Length and Width
Don't purchase a deckover trailer without first confirming its length and width can handle your project. Our custom trailers can be designed to accommodate your specific length and width requirements. A 101-inch bed width is far wider than a typical flat deck trailer width of 80inches.
Choose between 20and 40 feet for your deckover trailer by Millroad Manufacturing. A longer trailer allows you to carry more cargo at once, but can also be difficult to navigate certain job sites or roads. Compare 3.5-ton, 5-ton, 7-ton and 10-ton trailer options to find the best for your project.
Loading Ramps and Other Accessories
Once you've found your perfect toy hauling or work trailer, it's time to pick up the gear and accessories you need. With a Millroad deckover trailer, you can enjoy these premium features:
Recessed LED lights

Spring-assisted ramps

Custom accessories
Spring-assisted ramps make it easy to load up your skid steers, ATVs or other equipment. Adjust the ramps to safely load your equipment and use the spring-assisted feature to easily stand them back up and hit the road.
Finally, we offer a range of custom accessories to personalize your trailer. Haul safely with aluminum winch tracks, recessed floor tires, additional LED lighting or a custom toolbox. Include a custom replacement tire mount to keep a spare tire with you at all times.
Safe Towing Tips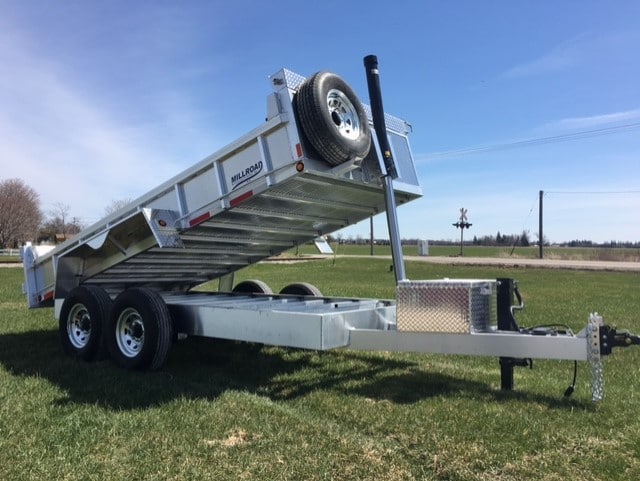 Since a deckover trailer doesn't have sides or rails to keep your equipment in place, you'll need to be sure to safely strap down all your equipment. Check your trailer for safe spots for a tow strap. If you're planning on hauling unique equipment or materials, consider creating custom tow strap spots on your trailer.
Double-check the weight rating for your tie straps, chains and ropes. Tighten them securely and make sure you place the strap on a safe spot of your equipment. As you load your ATVs, skid steers or other equipment onto your trailer, be cautious of dragging or scraping components across the deck of your trailer. Your spruce boards are durable enough to handle heavy equipment, but you could scratch the sealant off of them and cause moisture issues down the road.
The Best Uses for a Deckover Trailer by Millroad Manufacturing
While your custom Millroad deckover trailer isn't recommended for hauling cars, there are many dynamic ways you can use these premier trailers. Check out custom trailers today to find the best size and weight rating for your needs. Whether you're hauling sheets of drywall and plywood or loading up skid steers for your next construction project, choose a reliable trailer for reliable performance.