Choosing the Right Tires for Your Custom Trailer
If you're like most trailer owners, you've probably had tire issues. A blown tire is never a good time, but a flat tire on a trailer can be dangerous and frustrating. Prevent further tire issues by choosing the right wheels for your custom trailer. As a leader among custom trailer manufacturers, Millroad Manufacturing offers premier custom trailers with long-lasting wheels for all your travels.
Common Types of Trailer Tires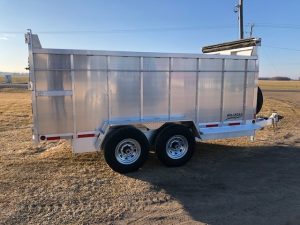 There are many different types of tires available. Selecting the right tire can not only keep your trailer on the road for longer but can also save you money. Here are the basic categories of tires available:
Passenger car tires

Light truck tires

Special trailer tires
Because your trailer tires are free-spinning, don't have a steering system and sometimes aren't even connected to a brake system, they don't require the same soft sidewalls of common car and truck tires. Special trailer tires have stiff sidewalls and have a load capacity 40% higher than passenger car tires. This allows you to load up your trailer to its recommended weight limit without worrying about a blown tire.
Another common difference between tires is radial tires and bias ply tires. A radial tire uses plies that are perpendicular to the tire and steel belts underneath the tread. A bias ply tire, on the other hand, has plies that are typically running at 30-degree angles. For vehicles, radial ply tires offer better performance.
How To Choose the Right Tires
It's easy to choose a special trailer tire instead of passenger car or light truck tires, but should you use bias ply or radial tires? For trailers, choosing between radial and bias is more difficult because it depends on your trailer's handling. A trailer that's prone to swinging should use bias ply tires. The extra-stiff sidewalls prevent your trailer from wandering around on the road.
Radial tires, on the other hand, offer long-lasting tread wear. They're also less likely to develop flat spots. In the end, it depends on your manufacturer's recommendations. Millroad trailers use radial tires for their premium tread wear life, flat spot prevention and cooler running temperatures.
Dangers of Choosing the Wrong Tires
There are a number of issues that can occur if you don't use the right tires. The most obvious issue is a flat tire. However, you can also experience flat spots, a wandering trailer or reduced fuel economy. Improper tire selection can decrease the lifetime of your tires, which costs you money as you continue to replace your trailer tires.
How To Maintain Trailer Tires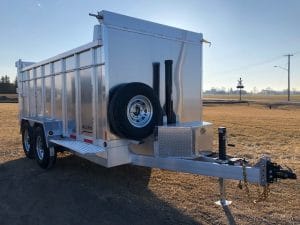 Two common maintenance issues that affect your tires are inflation and your tire changing schedule. An under-inflated trailer tire won't look visibly flat like an automotive tire because of their stiff sidewalls. However, just like an automotive tire, an under-inflated trailer tire will quickly wear out and go flat. Don't wear out your tires because of low air pressure.
The second common maintenance issue is your tire changing schedule. Unlike a vehicle, your trailer probably isn't driving every day for long trips. If your trailer sits for days or weeks at a time, it can affect the lifetime of your tires. Don't rely on miles traveled to schedule a tire change, but change your trailer tires every three to five years. This will help prevent a blown tire.
Enjoy a Premium Trailer From Millroad Manufacturing
For more information about tire selection and maintenance, contact us at Millroad Manufacturing. Check out our premier aluminum trailers with reliable radial tires, and enjoy a long-lasting, low-maintenance trailer for your work or weekend adventures. Don't let poor tire selection and maintenance cost you money as you travel to a jobsite or for a vacation.