6 Reasons To Choose Millroad Aluminum Dump Trailers
When you are shopping for a dump trailer, there are many options you may consider. However, the right choice is a Millroad aluminum dump trailer. We've worked hard to design trailers that consistently leave our customers satisfied. Here are six reasons we believe that our dump trailers are the best on the market.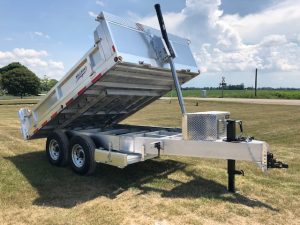 1) They're Aluminum
We only produce superior aluminum dump trailers. Aluminum is naturally rust and corrosion resistant, lighter than steel and easier to maintain. Plus, with the way we design our trailers, it is equally as strong as or stronger than steel alternatives. In short, you are getting a better-built trailer for your money.
2) We've Been Doing This a Long Time
We were one of the first full aluminum dump trailer producers in Canada. That experience helps us produce better-designed, more robust and easier to use trailers. We've been doing this longer than any other producer in Ontario.
3) We Use Superior Lifts
There are many designs for the lift systems on dump trailers. At Millroad, we use telescoping hydraulic cylinders. This technology is well-established, simple and effective. You can count on this lift style to keep working with minimal maintenance. Strength and simplicity have won out over more complex twin-cylinder and scissor lift styles that may seem fancy but have more moving parts and are practically asking to break.
4) Our Trailers Are Built To Last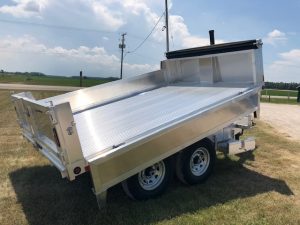 At Millroad, we know that it is important for your trailer to be durable. We design ours with beefy sub-frames to ensure that they have a solid foundation. Other producers opt for smaller beams and fewer cross members. On the main body of the dump, we have a 1.25-inch thick floor reinforced by cross members every 12 inches. This is thicker than standard flooring and the reinforcing beams are closer together than the 16 inches most frequently used. The walls are thicker and have custom slotted top rails to add structural strength. Even our latches and hinges are designed for strength. The upshot of this is that our aluminum dump trailers can take more of a pounding and keep on moving.
5) We Offer Great Features – Standard
The qualities that set a great dump trailer apart are often the features that make it easier to use and maintain. These are just a few of the standard features we offer:
Tarp kit with aluminum hood
Dexter torsion axles with EZ lube hubs
Radial tires with galvanized rims
Aluminum box with electric/hydraulic pump
Deep cycle battery with a built-in 110 volt charger
Heavy-duty fenders that are strong enough you can stand on them
Five-year warranty
When you buy a Millroad aluminum dump trailer, you are getting a lot more than just the trailer. Our goal is to make sure our trailers are as user-friendly as possible.
6) You Can Customize to Your Heart's Desire
We work to meet each customer's individual needs. You can choose from a variety of axle sizes from 3,500 lb up to 7,000 lb. If you are planning to carry more weight, we offer tri-axle setups. We can change the standard 16" sidewalls to whatever size you need and the same for the 24" standard front and back walls. Anything up to 60" for walls is available. We also offer ramp kits for customers who need them. These come with D-rings in the dump box.
Order Yours Today
When you choose a Millroad aluminum dump trailer, you get more for your money. Contact us today to learn more about the best dump trailers in Canada. We are confident you'll love your new trailer.