How Much Weight Can a Utility Trailer Handle?
The benefit of a utility trailer is it can carry almost anything you need, with a few exceptions. The primary qualifier is the weight of your intended cargo. A utility trailer is only rated to hold a certain amount of weight before possible taking damage to itself, your cargo, or other cars on the road. Make sure your trailer can hold what you're planning to tow to ensure a safe and smooth ride.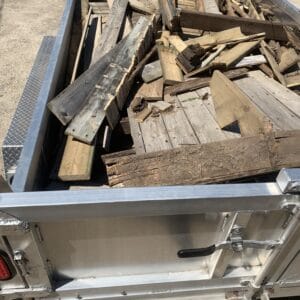 Understanding Weight Capacity
The main factor that goes into a utility trailer's weight limit is the load rating of its axle. Trailer axles are rated based on their diameter, which helps determine their overall strength. The thicker the axle, the more weight it can carry, and most axles can carry somewhere between 1,000 and 10,000 pounds.
Knowing the weight capacity of your trailer helps you understand what it is capable of towing as well as how to best balance the load within the trailer. Should you try to haul something that's over the trailer's capacity or load the weight in an extremely unbalanced way, you run the risk of the axle breaking.
If this happens during loading, you'll face frustration and delays at best, as well as running the risk of injuring yourself and the other people loading. If the trailer makes it to the road, a broken axle is likely to cause damage to your own vehicle and nearby cars, as well as potential personal injuries for everyone involved. So, it is critical you know the weight limit of your utility trailer and never exceed it.
Finding the Load Capacity on Your Utility Trailer
There are generally two ways to find the load capacity of your utility trailer. The first option is to find the trailer's data plate. You can usually find it attached to the trailer's tongue or elsewhere on the frame. Once you've found it, there should be an entry that lists "axle capacity." This is the weight limit for your trailer.
The other option is to measure the diameter of the axle or axles. From this measurement, you can reasonably estimate the load capacity of the axle:
1.5-inch diameter axle can carry up to 1,000 pounds 

1.75-inch diameter, up to 2,000 pounds 

2.375-inch diameter, up to 3,500 pounds 

3-inch diameter, up to 6,000 pounds 

3.5-inch diameter, up to 8,000 pounds 

4-inch diameter, up to 9,000 pounds 

5-inch diameter, up to 10,000 pounds 
Note that these capacities are per axle. So, if your trailer has multiple axles, you need to multiply the per-axle load capacity by the number of axles your trailer has. This gives you the overall load capacity.
Customizing Your Utility Trailer
At Millroad Manufacturing, we offer trailers in a variety of different lengths, widths, and axles, so you can get a custom utility trailer for your specific needs.
Because of this level of customization, the load capacities of our utility trailers can vary greatly. For instance, our 6-feet-long by 4-feet-wide trailer comes with a single axle that's rated for cargo up to 2,200 pounds.
However, if you wanted a 20-foot-long by 80-inch-wide trailer, you could choose between two axles that can carry either 3,500 or 5,200 pounds each. Our longest and widest trailer could potentially haul over 10,000 pounds of cargo.
When you're customizing your trailer, you should know what type of cargo you're looking for it to carry. Knowing how much weight you need your trailer to hold makes it easier to select the right trailer size and appropriate weight limit for your axle or axles.
If you're ready to get hauling, reach out to us with any questions. Our affiliated dealers can also help you find the trailer that best suits your needs.