Is a Utility Trailer Covered Under My Car Insurance?
A utility trailer is not inexpensive. Often, the cargo the utility trailer hauls is not inexpensive, either. So, it makes sense that questions of insurance are among the most common things trailer owners ask.
The best way to check if your trailer is covered by your regular car insurance is to consult your specific insurance policy. However, there are general guidelines to look at to better understand if additional insurance is needed for your utility trailer.
Are Utility Trailers Covered By Regular Car Insurance?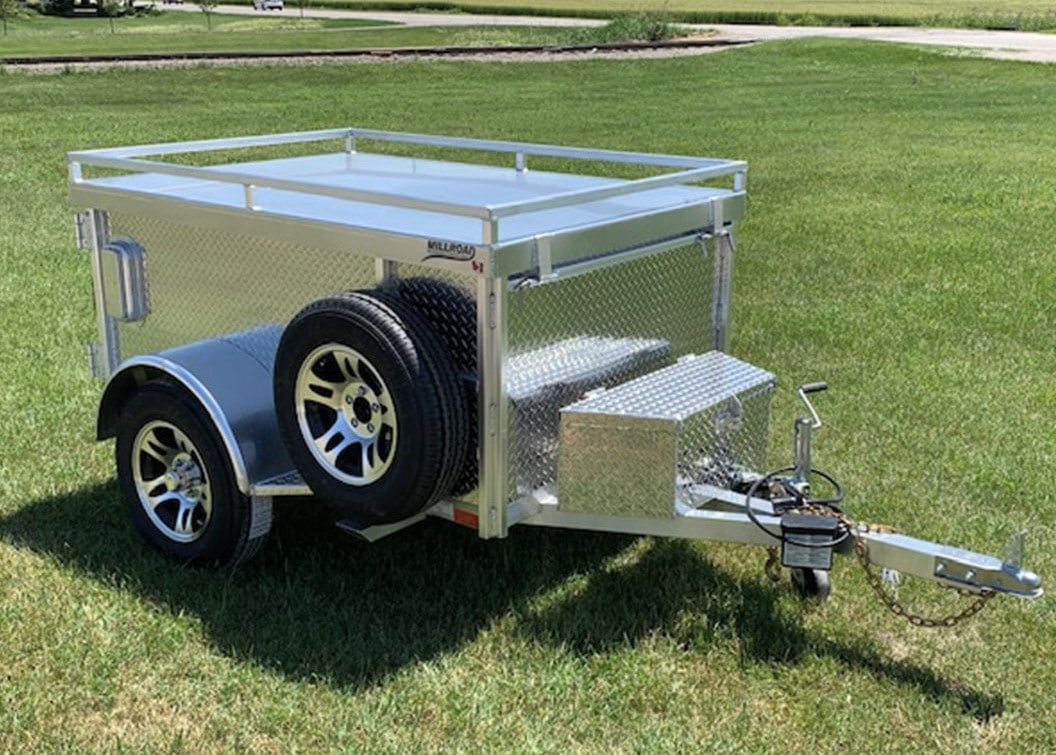 It depends. Typically, utility trailers are not included as part of regular car insurance coverage. However, unlike other types of trailers such as RVs, you probably don't need to purchase a standalone policy for your trailer. Instead, you can add your utility trailer to your current insurance.
Some people use their utility trailer to haul sports vehicles, such as jet skis or motorbikes. These types of vehicles usually require their own insurance, which can sometimes include coverage for their trailer, too. However, this only protects the trailer if there's an accident while hauling these specific vehicles.
It's often a wise choice to add your trailer to your car insurance policy. It can help protect you if you're in an accident while hauling cargo. Depending on how often you use your trailer, you may receive seasonal discounts, too.
In some cases, you may not even see an increase in your premiums when you add your trailer. However, that is not true of all policies or insurance companies. So, make sure to reach out to your current insurance agent to better understand whether you can add your trailer to your current policy and how much that may cost.
Is the Utility Trailer's Cargo Covered by Car Insurance?
The answer to this question, too, depends on your specific insurance policy. As mentioned above, if you use your trailer to haul sports vehicles, you likely already have insurance in place for those vehicles when they are cargo. Even if you have this type of sports vehicle insurance, though, if you use your trailer to haul other cargo and that cargo gets damaged, you will likely not be covered.
If you've added your trailer to your car insurance policy already, you should double-check as to whether the cargo is covered, too. Most of the time, only damage to the trailer is covered by a policy. However, some insurance companies include that coverage, though at the cost of more expensive premiums.
What If You Use Your Trailer For Your Business?
If you use your trailer to haul business goods, make sure your commercial auto policy covers your trailer, too. This type of insurance can be listed under several different names:
Check with your insurance broker as to what is specifically covered under these policies. Typically, the coverage only extends to the damage done to the trailer or if the trailer is stolen.
Another consideration when it comes to using your utility trailer for your business is proper licensing. Many states or provinces require the trailer to be registered and licensed for it to be used on those roads. This means the trailer needs to be insured and pass a safety inspection.
Why Millroad Manufacturing?
At Millroad Manufacturing, we build world-class trailers that fit a wide range of needs. If you need one for a specific use, we can also craft a customized trailer that allows you to choose only the arrangement and features you need.
If you have any questions about our product or manufacturing process, don't hesitate to reach out to us today! You can also contact our affiliated dealers for questions about purchasing.