Haul Equipment Confidently With This Deckover Trailer
A deckover trailer has some big advantages over other trailers. In fact, one of the best features about the Millroad MDO 24-7 deckover trailer is the full-width bed that allows you to haul heavy loads or equipment. If you are searching for the perfect trailer to do tough jobs, this is the one. The utility and versatility of the MDO24-7 are built in from the start, but take it up a notch and add some custom options to make it your ultimate work and play trailer.
The Millroad advantages are how we design our trailers to perform heavy-duty tasks and to fit our customers' dreams. You will find many ways to use your trailer and probably have a few friends ask to borrow it. We've told you why a Millroad deckover trailer is a great choice, so now we'll tell you how we engineer it with the strength and durability that makes you a satisfied customer.
Key Trailer Features
Our customers want the flexibility and affordability to get the type of trailer they want. The MDO24-7 is a 7-ton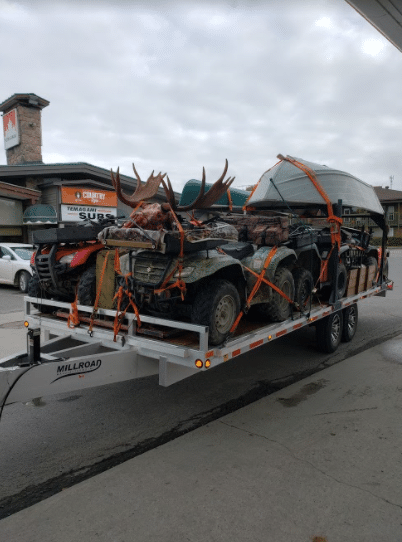 deckover trailer that is 24 feet in length with removable stand-up ramps. Its light, aluminum body is durable and resists oxidation, so it weathers the elements and retains that polished look. You also get the benefits of premium spruce-board decking and extra ground clearance.
These trailers are great for big hauls on construction, agricultural and landscape jobs. The slight elevation gives a single, unimpeded load space that works well for forklifts.
The spring-assisted ramps make it easy to get your construction vehicles or your recreational vehicles, like ATVs, loaded up. Add skid steers to level off skids to the height of your deck for easy side loading and unloading capabilities.
Custom Design Options
One of the unique advantages of our deckover trailers is how we customize them to your specifications. Uses vary based on how customers work and play, so we are careful about fine-tuning trailers for supreme functionality and heavy-duty performance. We can tailor these options for you:
Ramps

Walls

Tie-down points

Brakes

Axles

Trailer dimensions
The braking system on your trailer is one of the most important parts. You can choose between electric and hydraulic brakes. Our team will go over the benefits of each to make sure your trailer has the proper braking system to safely haul heavy loads.
Customers are happy to learn that we can customize any part of their deckover trailer. You can discuss your vision with our team, and they help determine the size, weight and load provisions. Our team is dedicated to quality craftsmanship and goes over every detail of your design to get it right.
Great Accessories
Sometimes, we think of accessories as only the fun extras, but with deckover trailers, these items serve some important purposes in the way your equipment functions best:
LED Lighting

Spare tire mounts

Aluminum winch racks

Aluminum flooring

Cast D-rings
We can add custom toolboxes, which are helpful when you are on the job and need quick access and organization. Recessed floor ties are essential for deckover trailers to keep your deck unobstructed and your wheels protected when hauling vehicles and equipment.
Quality Deckover Trailers
We are in the business of engineering trailers with the quality and precision you need to accomplish the toughest jobs. We have standard built models ready to perform from the start, or our engineers can design a deckover trailer customized to suit your requirements and fitted with all of the options you choose.
We are committed to superior manufacturing practices that exceed global industry standards. Once you see our product line and experience our customer service, you will understand why people choose Millroad trailers.