Buyer Beware Advice When Looking for a Used Trailer
Buying a used trailer may seem like a great way to save some money. However, there are warning signs you should watch out for when buying used. Check out each of these problem areas of used trailers and compare them with the advantages of a new custom flatdeck trailer before making the best decision for your business or personal hauling and equipment transportation needs.
Research the Manufacturer
Not all trailers are created equal. Some manufacturers cut corners to reduce the price of their trailers. Here are key areas trailers from other manufacturers may not hold up to the quality of a Millroad Manufacturing trailer: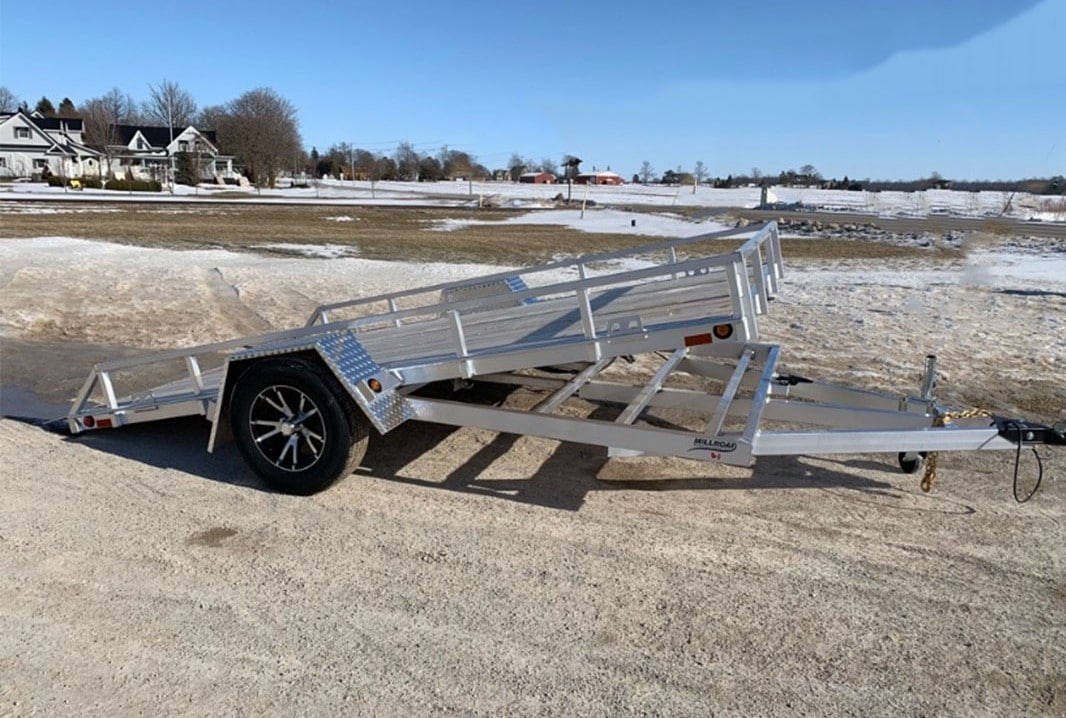 Reliable manufacturers will stand by their product, so be sure to compare names on new and used trailers before making your decision. Minor defects in designs can compromise the safety or protection of your trailer, so it pays to buy from a trusted company.
Like an unreliable manufacturer, an unreliable seller can also be an issue. It's worth checking to see that the trailer has a clear title. If you buy a trailer from a stranger, just as is the case with another vehicle, you may be buying a stolen item. When the original owner finally tracks down your trailer, it can be a stressful situation for everyone involved. Buying a new trailer or a trailer with a clear title prevents this headache.
Check the Wheels and Axles
Everything from the rubber and frames of your wheels to the brakes and axles needs to be carefully inspected on used trailers. Improper maintenance can lead to bald, flat tires, warped rims and other issues. Careful inspection is critical to safe driving and hauling, so do your research before you buy a used trailer.
Just like your vehicle, your trailer has brake pads or shoes that need to be periodically replaced. Failure to do so can result in reduced braking power. Inspect the callipers and rotors or drums, depending on the type of brakes, to look for signs of sticking or corrosion.
While you're inspecting the brake system, be sure to check out the leaf springs and axles. Any cracks or warped components may be a sign that the trailer was overloaded. This can result in a compromised structure that may not be safe for use.
Look for Signs of Rust
Rust in a trailer bed or walls is difficult to halt. Shopping for used steel trailers in Canada typically means looking at various stages of rust and corrosion. It's only a matter of time before that small rust spot on the wall of the trailer compromises the entire body. Be sure the trailer you select has been properly maintained. An even better way to avoid rust is to invest in an aluminum trailer from Millroad Manufacturing.
Inspect the Wiring
Old trailers are notorious for wiring problems. Whether you have electric brakes or simply have wiring to the trailer lights, these wires can be damaged, chewed by mice and corroded from weather issues. Damaged wiring isn't costly to repair but can be time-consuming. It can be dangerous if you aren't aware of a wiring issue before you begin driving your used trailer, so be sure to carefully inspect this area.
Compare Buying Used vs. a New Millroad Trailer
There are many hazards to buying a used trailer. While there are certainly great deals out there, you have to be careful not to pick up a rusted, overloaded or poorly manufactured trailer. For reliable equipment that meets your workplace needs and the demanding Canadian weather, browse our trailers at Millroad Manufacturing. Trust a leader in Ontario for reliable, long-lasting and affordable trailers.