Choosing the Right ATV Trailer
An ATV hauler lets you take your favourite off-road vehicle to your next job site or the perfect trailhead. Find out how to pick the right ATV trailer using these key features. Explore the benefits of a custom aluminum trailer to haul your all-terrain vehicle and gear wherever the road takes you.
Compare Single ATV Versus Double ATV Trailers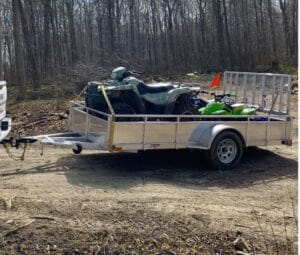 Before sizing your trailer, it's important to consider how many ATVs you're hauling. A common complaint with ATV owners is that they want to upgrade from hauling one vehicle to two. A 4-foot by 6-foot trailer is typically enough to handle a single ATV, but a 6-foot by 12-foot trailer is needed for two ATVs.
For extreme trips, see if you can pack three ATVs on your trailer. You'll want to measure your specific vehicles and verify that your truck can handle the weight. Expect to pull a trailer at least 16 feet long to handle three off-road adventurers.
One way to get more out of your trailer dimensions is to choose a deckover trailer. Most trailers ride low enough to require wheel wells to bump up into your trailer bed. A deckover rides higher and has a solid, flat deck. This means you won't have to try to fit an ATV between wheel wells. As long as you have removable access ramps, you can still safely get your ATVs up onto a deckover trailer.
Look for Room for Equipment
These dimensions may be enough to hold your vehicles, but they will be tight. If you want to throw in a spare tire, camping gear or some oil cans, go for a 5-foot by 8-foot trailer for a single ATV. This won't give you enough space for an additional vehicle but will give you the breathing room you need to get around your ATV and throw in some extra gear.
If you're planning on hauling a lot of extra equipment, consider a trailer with walls. Millroad Manufacturing deckover trailers can come equipped with walls that easily unlatch and flip-down. This prevents loose items from sliding out of your trailer when you drive but still allows you to access the tie-down straps around the front of your ATV without climbing around in your trailer.
Add the Right Accessories
Perhaps the most important feature of an ATV trailer is the material. Choose an aluminum trailer to prevent rust issues. Unlike a steel trailer, aluminum is rust free, so you can cruise down dirt roads and ride through rainstorms without worrying about damaging your trailer paint or causing it to rust.
A hauling trailer will need a few extra accessories to keep you safe and comfortable as you load, transport and unload your off-road vehicles. First, be sure you have removable ramps to get your ATV up onto your trailer. You're not going to want to try and pick up your vehicle, so this is a must-have accessory.
Next, check the brakes, tie-down points and lights of your trailer. Aluminum trailers from Millroad Manufacturing come with reliable brakes, EZ Lube axles, LED lights and customizable tie-down points to safely secure your off-road adventure vehicle. All of these features ensure a long-lasting trailer that can keep up with your truck to navigate back roads to the next trailhead or safely reach a new job site.
Create a Custom ATV Trailer With Millroad Manufacturing
Don't settle for a generic trailer or purchase a trailer you're going to outgrow. Take the time to shop for a quality ATV trailer from Millroad Manufacturing to haul one, two or even three off-road vehicles. Learn more about our custom aluminum trailer options today to see how you can create a trailer to haul all your equipment or adventure gear.