Using a Trailer Loading Ramp Safety Tips
One of the advantages of a custom aluminum trailer is that you can choose the loading ramp that works best for you from a number of options. However, no matter what type of ramp you choose, it is important to know how to use it and to do so safely. The following tips can help you use your loading ramp correctly and minimize your chance of injury due to an accident.
1. Choose the Correct Size Ramp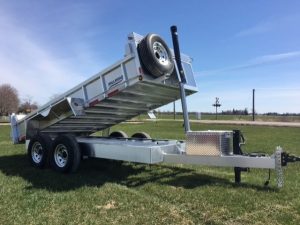 The ramp that you use should be sized appropriately to the load that you want to move. Moving a big load is much safer and easier if the ramp is large enough to accompany it. When in doubt, it is better to have a ramp that is too big rather than too small. Therefore, if you usually load small items but occasionally need to transport big ones, it may be a good idea to opt for the larger ramp.
2. Attach the Ramp Securely
Not all ramp options are removable, but if you are using one that is, make sure that you attach it securely to your trailer before using it. This can be accomplished with ropes, chains, or straps. A gap or a sag between the trailer and the ramp can be potentially dangerous. To prevent this, be sure to adjust the attachments appropriate before loading.
3. Prevent Slipping
If the load slips off the ramp before it reaches the bed of the trailer, it can cause damage and possible injury if anyone is underneath the falling load. You can prevent accidents such as this by making sure that the ramp is clean and free of any slippery spots before trying to load anything. A ramp with an anti-slip surface also offers extra protection.
4. Keep the Angle Low
An accident is more likely to occur if the angle of the ramp is steep. Therefore, you should try to keep the ramp angle as low to the ground as possible. This also keeps you from expending as much energy while loading the trailer.
In some situations, it may be difficult to maintain a low angle for the ramp. If this is the case, try placing the loading ramp on a surface that is higher than the trailer. This helps to keep the loading area more level.
5. Don't Let Your Load Fall Backward
If you're driving a vehicle up the ramp, there is a chance that the load could tip over. One way of preventing this is to make sure the powered wheels are going uphill. This means driving up the ramp backwards if you are operating a vehicle with a rear-wheel drive. Otherwise, you should probably drive the vehicle forward up the ramp so that you can more easily see where you are going.
Be aware of the vehicle's centre of gravity as well. The higher it is, the more likely the vehicle is to tip. For example, it is easier to drive a forklift up a ramp than a motorcycle because the former's centre of gravity is a lot lower than the latter.
6. Use Common Sense
Don't take any unnecessary risks when loading or unloading a trailer using a ramp. Something that seems like a bad idea probably is. Be sure to follow the directions and/or the established procedure and don't take any shortcuts. When loading mechanical vehicles, be extra cautious.
Custom Aluminum Trailers Built With Safety in Mind
At Millroad Manufacturing, we take pride in keeping safety in mind when building all components of our custom aluminum trailers, including the ramps. Learn more about the different types of trailers available and the options for each.