Tips Before Buying a Utility Trailer
Trailers offer many benefits to manufacturers and industry leaders, and many also contribute to the livelihoods and lives of small business owners or adventurers. A custom utility trailer is a workhorse for the modern farmer, camper, gardener or anyone interested in towing small or heavy loads. While there are plenty of reasons to purchase a utility trailer, it is crucial to consider your needs before purchase. The best buying decision will get you a trailer that exceeds your basic requirements while staying within your budget. The following six tips can help you find that trailer.
1. Know Your Size Needs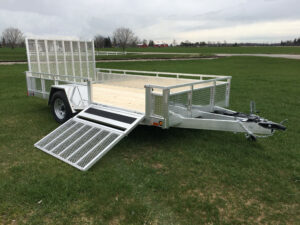 What type of cargo are you interested in towing? A mover needs to find a trailer large enough to handle furniture and with a capacity limit to match. However, a business owner only looking to make minor deliveries may find an expansive trailer overwhelming and a drain on finances due to increased maintenance costs. Every trailer owner has their own specifications, and while it would be nice if there were a universal trailer for everything you could want to tow, that does not exist. Determine your needs and seek trailers that fit those specifications.
2. Consider Durability
People are often deceived by the shiny appearance of a new trailer. The awe factor should not come into play when selecting a utility trailer. Look for a trailer that suits your needs and is also suitable for the climate you are in. You want a trailer that is durable and can withstand varying weather and road conditions, so when making your purchase, be sure to think with your head and not your eyes.
3. Understand Towing and Hitch Needs
There are several ways to hook up a trailer. Inspect your vehicle to understand its towing connections and capabilities. The worst possible scenario is getting a trailer that fits your size and durability needs, only to find out that the hitch or towing capability does not fit with your vehicle. Take your time, read your vehicle's manual, and understand all connections and towing requirements before searching for a trailer.
4. Check Out the Tires
When buying a trailer, the tires are almost as essential as the vehicle. The tires ensure that a trailer can hold the weight it advertises. If they are not correct or too small, that lowers the load capacity of the trailer. Any damage to the tires or wheels can also reduce the ability of the trailer. Therefore, before you purchase a utility trailer, assess the wheels. Look for visible wear and make sure that the tire is the right size for the bed.
5. Explore Your Options
Do not limit yourself in your pursuit of a utility trailer. There are plenty of dealers with a variety of trailers. Take your time to choose a utility trailer that is best suited to your needs. You can also look to trailer manufacturers, like Millroad Manufacturing, for custom and durable setups. The point is to make sure that the trailer you select is the best for your budget and needs.
6. Inspect Before You Buy
Before making the final purchase decision, inspect the trailer thoroughly. You want to assess the body, the connections and the wheels. Take a peek under the bed, looking for signs of wear or rust. If you do not know how to do this, then find a friend or professional to help.
A utility trailer is an excellent piece of multi-use equipment, but as with any significant purchase, it is necessary to take your time and assess your needs and options. If you are in the market for a new or custom utility trailer, then contact the experts at Millroad Manufacturing.