How To Properly Store Your Custom Aluminum Trailer
As your busy summer season comes to an end, you need a reliable way to store your trailer. Don't start your season with flat tires, a dead battery and a rusted trailer components. Avoid these common storage mistakes by learning how to safely store your custom aluminum trailer by Millroad Manufacturing.
Common Storage Mistakes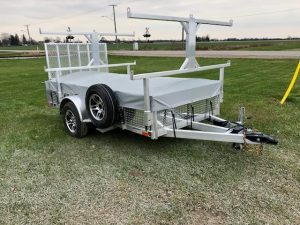 Perhaps the biggest mistake you can make when storing your trailer is simply parking it in your driveway and forgetting about it. Most trailers have a good deal of dirt and debris that need to be taken care of. Leaving dirt, mulch or other material in your trailer all winter can cause it to freeze, thaw and retain moisture, which is a recipe for rust.
Another common storage mistake is your storage location. Don't park your trailer near the road, particularly in an area with heavy snowfall. When a plow truck flies by your location and sprays your trailer with snow and road salt, it can damage your custom aluminum trailer.
Winter Storage Solution
Safe winter storage involves a few basic tips. Follow these to enjoy a long-lasting aluminum trailer that's ready to go this spring:
Remove the trailer battery.

Grease your trailer's axle.

Jack up your trailer.

Avoid road salt.
Just like your automotive battery, your trailer battery doesn't like to sit around all winter without being used. Temperature changes and lots of moisture can cause it to quickly corrode and fail altogether. Pull your trailer battery, and store it somewhere safe in a heated building. Charge it every 90 days for maximum lifetime.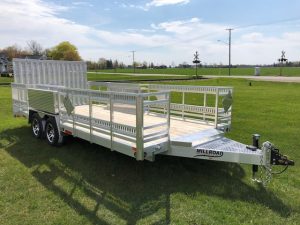 In the rush of summer and fall projects, you may not have kept up on greasing and lubricating your trailer's axle. Spend some time greasing it before you store it to prevent rust and corrosion from becoming an issue in the spring.
Parking your trailer on its own wheels is a recipe for flat spots and a worn-out suspension system. Ease the load of your trailer, and give its suspension system a break this winter. Use jack stands to support your trailer. Always use the designated jack points to avoid damaging your trailer. Don't put a jack stand under the axle tube, or you may have a damaged axle to deal with this spring.
Find a spot away from the road and away from your driveway if you use road salt. Salt is hard on your vehicles and trailer, particularly if you let it sit all winter. It's not essential to store your trailer indoors, but it's always a nice alternative to snow and ice.
Advantages of a Custom Trailer
As you're getting ready to retire your trailer for a long winter, take some time to read up on the latest trailer styles and designs. If you've been frustrated about a particular aspect of your trailer this year, why not invest in a custom aluminum trailer? At Millroad, we offer high-end custom trailers that allow you to tailor the length, width and other features to your exact needs.
Don't settle with a generic trailer that you don't love. Compare affordable custom trailers with your trailer today. Find out if it's time to retire your outdated trailer and to enjoy a state-of-the-art alternative. The latest Millroad trailers make it easy to haul a variety of loads and safely store your trailer all winter long.
Enjoy a Long-Lasting Trailer From Millroad Manufacturing
Whether you're storing a landscape trailer, flat deck trailer or dump trailer, follow these tips to enjoy a long-lasting trailer. Check out our premier custom trailers to create a custom workhorse or toy hauler for next year. Contact us at Millroad Manufacturing today to learn more about effective storage options or to order your custom aluminum trailer.