Make Sure Your Trailer Is Ready for Spring
When warmer temperatures arrive, it's time to air out the house, clean up the yard and tackle your spring projects. When you're doing these spring chores, don't neglect preparing your trailer for the busy season. After sitting around all winter, your trailer needs a little TLC to make sure it is ready for the months ahead when you need it to work hard.
A Checklist for Spring Maintenance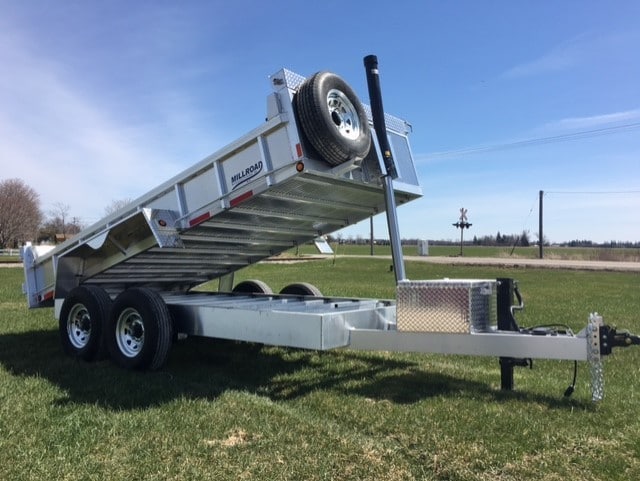 A spring inspection and maintenance schedule is important to keep your trailer in peak performance condition. Winters get cold. The extreme temperatures stress the materials of the trailer, from the tires to the lights. Just sitting in one place can cause deterioration over time. Here is a checklist to help you remember to check these key items before you take the trailer out on the road for a heavy job.
Check the Wheels
Inspect the tires for visible defects, such as weather cracks. Look for an uneven tread or other signs of wear. Don't forget to include any spare tires you keep. Use a tire pressure gauge to check the tire pressure. When tires are underinflated, you risk poor performance or blowouts. Over-inflation causes tires to wear more quickly. Either condition makes it harder to handle the trailer. The correct pounds per square inch reading is usually located on a placard on the trailer or in the owner's manual. Our technicians can help you determine the correct psi if you aren't certain. Also, make sure lug nuts are appropriately tightened.
Wiring and Lights
Check all the lights, wires and prongs to make sure they didn't deteriorate over the winter. Plug the trailer wires into your vehicle wiring connection and make sure that the brake lights, turn signals, hazard lights and running lights are operating correctly. Check that the wires are properly connected and leave enough length to allow you to make turns without letting them drag on the ground.
Bearings and Brakes
It is a good idea to have a mechanic check the brakes and wheel bearings. Grease the hubs with the EZ Lube System every year to avoid the need to replace bearings prematurely. Verify that the brakes on the tow vehicle and trailer are working correctly. Replace any parts that were damaged from the winter or that are getting to the end of their lifespan. For example, if the brake pads are looking worn, use your scheduled spring maintenance time to put on new ones. Generally, you should replace them every two to three years.
Check All the Equipment
Go through the entire trailer. Examine the undercarriage and springs for wear and cracks. Make sure that the hitch and other equipment that hooks the trailer to the tow vehicle is not worn and properly secures the trailer. Parts that move may need to be lubricated to keep them running freely. Check to make sure that the sockets aren't dented or bent. Verify that you have all the equipment you need, such as safety chains, accessories and jacks. You don't want to be out on the road without a vital piece of equipment.
Inspect Your Trailer Regularly
This spring maintenance checklist will get your trailer in good working order for the upcoming season, but you shouldn't ignore your equipment all summer long. Check the tire pressure every month because it can fluctuate with the temperatures and use. Watch for cracks in the material of your trailer. Regular inspections and maintenance ensure that your trailer is up to the job you need it to do and helps prevent expensive breakdowns when you're far from home or carrying a heavy load.
If you're ready to discuss a new trailer or one that is custom-made to fit your needs, contact Millroad Manufacturing Inc. They offer high-quality aluminum trailers that are built to exceed industry standards.