How To Keep Your Dump Trailer Safe From Theft
After buying the perfect trailer for your commercial or DIY project, the last thing you want to deal with is theft. Unfortunately, many trailers are easy to hook up and haul away in the middle of the night or while you're away at a different jobsite. Find out how to protect your investment and keep your dump trailer safely stored when not in use.
Types of Trailer Locks
Locking your trailer is easy with the right gear. There are many different kinds of trailer locks available. Some are far more efficient than others, so be sure you choose the best option to prevent theft. Choose either a hitch lock or wheel lock to prevent someone from hooking up and hauling away your trailer.
Hitch locks come in many different styles. Some surround the entire coupler, while others are smaller but still prevent access to the coupler. If you simply want to deter someone from quickly latching on and hauling your trailer, any type will work. However, if you're storing your trailer on a rural jobsite or away from your home, you may want a more rugged alternative to prevent someone from using a crowbar to pry off your lock.
Wheel locks clamp a wheel to keep it grounded. Similar to a tire boot, a wheel lock is another good way to keep your trailer from moving. One way a thief can get around a wheel lock is to remove the wheel and replace it, so this type of locking system might not be as secure as a hitch lock.
Don't forget to consider convenience. While a sturdy locking mechanism is essential, your lock won't do much good if it's too frustrating to put on every day. Test out your lock of choice or ask a professional about a convenient lock for daily use. That way you won't become so frustrated that you leave the lock off and increase the risk of theft.
You may need to measure your coupler to be sure you have the right lock. If you're unsure whether a particular lock will work for your trailer type, contact a professional to discuss the type you're considering. Trailer manufacturers have plenty of experience with locking mechanisms and understand the pros and cons of each type.
Storage Tips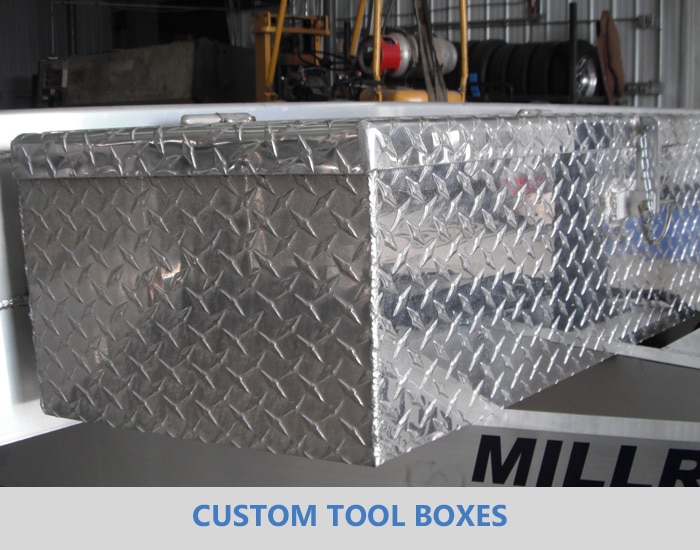 Don't advertise your trailer for would-be thieves. If possible, avoid parking a trailer away from your home for extended periods of time. If you have to leave your trailer at an isolated jobsite, try to keep it hidden from the road and always use your hitch lock.
The best way to safely store a trailer is to park it inside your garage or barn and lock the door. This isn't always possible, so the next best thing is to park it away from the road and out of view. Try not to make it obvious that your trailer is being left alone, particularly as you leave for the day.
High-Tech Solutions
For a more advanced safety system, consider using a GPS tracking unit. A tracker is relatively affordable, but you may need to pay for this monthly service. A GPS tracker allows you to monitor the location of your trailer at all times. If it's illegally removed from your property, simply alert the police to its exact coordinates and let them handle safely retrieving your trailer.
Find the Best Locks at Millroad Manufacturing
At Millroad Manufacturing, we've seen our share of excellent locks and not-so-great alternatives. There's a wide variety of locks available, so contact us to discuss your trailer type and safety concerns. We'll help you find the best locking system for your trailer and help you keep track of your favorite workhorse at home and on the job.