Fifth Wheel vs. Gooseneck Trailers: What's the Difference?
At first glance, a fifth-wheel and a gooseneck hitch on a trailer may look very similar. They both mount inside the bed of the truck. However, each has a slightly different mount style. Additionally, they have some unique benefits. When you order a custom aluminum trailer from Millroad Manufacturing, we will help you find the right hitch for your needs.
How a Fifth Wheel and Gooseneck Trailer Differ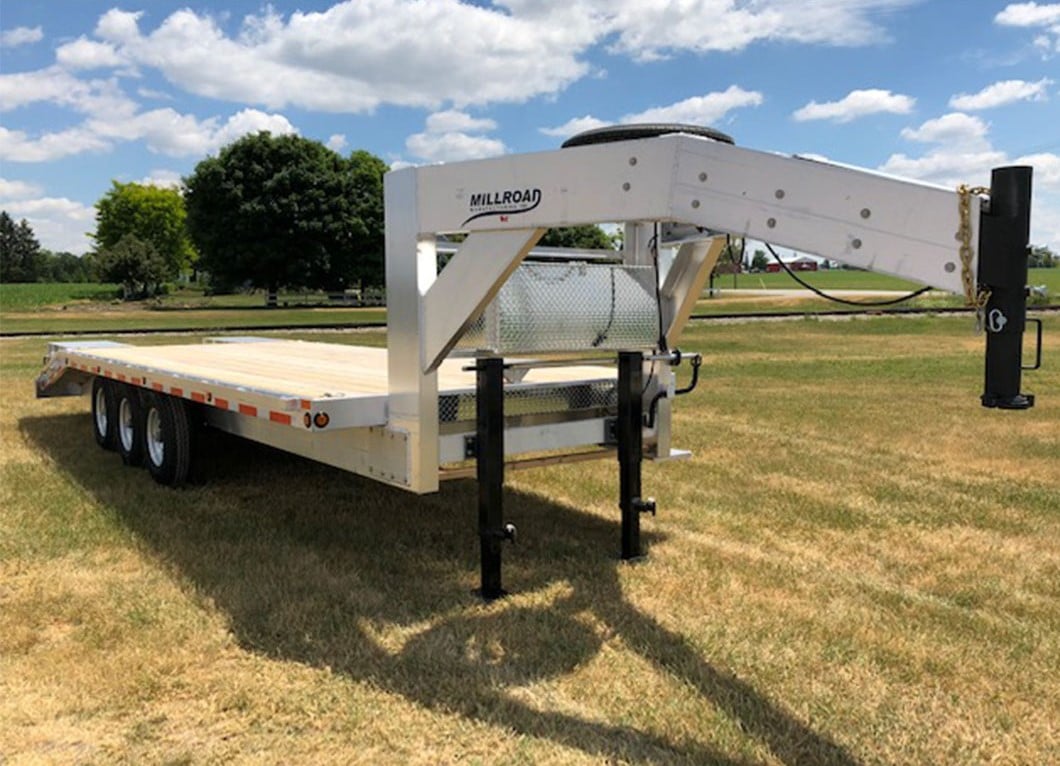 Again, the shapes of the two types of trailers are very similar. They both feature a coupler that points directly down into the bed of the truck. However, the connection is quite different.
A fifth-wheel trailer hitch has a distinct U- or V-shape to it. There is a kingpin that the trailer couples to. Then, metal jaws or a locking bar secure everything in place. A pivoting plate allows the trailer to rotate and tow smoothly.
The hitch assembly for a fifth-wheel trailer is usually mounted above the bed of the truck but needs to be bolted to it. Some hitches use base rails and others simply bolt straight to the bed itself.
Conversely, a gooseneck trailer uses a hitch ball that is installed in the bed of the truck. The main body of the hitch is mounted below the bed, and the ball is attached to the body through a hole in the bed. The body can be connected to the truck frame. The coupling process is very similar to any other ball hitch. However, a gooseneck trailer has the ball inside the bed rather than on the bumper.
Benefits of a Fifth-Wheel Setup
The most significant benefit of a fifth-wheel hitch is that it provides a smoother towing experience. Additionally, it is a common hitch type for campers. So, if that is what you expect to be towing, it may be the right choice for you.
Although fifth-wheel hitches require a permanent addition to the truck bed, they do not require as large of a hole in the centre as gooseneck hitches. Finally, there are far more capacity options for fifth-wheel hitches.
Benefits of a Gooseneck Hitch
A gooseneck trailer hitch is significantly smaller in the truck bed than a fifth wheel. Despite this, it can tow a higher weight capacity in most cases. Plus, the ball coupling system is easier to operate for a lot of people.
Being smaller, the gooseneck hitch is also lighter. Since it can tow more, a gooseneck hitch is usually more flexible. Many can tow up to 30,000 pounds.
Comparison to Bumper Pull Hitches
Both hitch types are significant improvements over bumper pull hitches. They provide significantly better-towing capacity in most cases. Additionally, they have superior turning radiuses. For users who expect to drive in cities or other tight spaces, this can mean a significantly better towing experience.
Similarly, with an in-bed hitch, the trailer is connected to the frame of the truck further forward, often over or in front of the rear axle. This can significantly improve handling characteristics.
The main drawback of in-trailer hitches is that they require permanent modification to the truck bed. Additionally, they can take up space in the trailer, especially a fifth-wheel hitch. If you do not expect to be towing often, a bumper pull hitch may be the better choice.
Find the Right Trailer for Your Needs
Millroad Manufacturing creates high-quality, custom aluminum trailers. We offer our customers are a diverse selection of features including different hitch types. When you order from us, we will happily work with you to determine the right hitch for your needs. Our gooseneck trailers are also available as fifth-wheel trailers. Explore all our trailer types and custom options today.