Top 5 Things to Consider When Buying a Dump Trailer
If you are looking for a dump trailer for sale, you may be wondering whether a given trailer is going to be enough for your needs. Understanding what you will be using the trailer for is essential for making the right purchase. At Millroad, we want all our customers to be completely satisfied with their purchases. There are five factors we recommend people consider when buying a dump trailer.
1) Weight and Capacity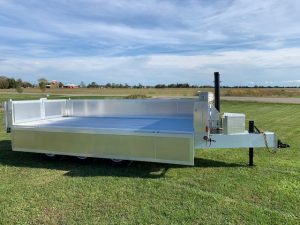 What capacity does your tow vehicle have? If you are uncertain, check the owner's manual. It will tell you exactly how much you can pull with the vehicle. Keep in mind that this capacity includes the weight of the trailer.
Think about the maximum cargo load you are likely to need or haul. Perhaps you plan to pull a side-by-side or some lawn equipment.
Alternatively, you may be planning to pull gravel or other construction materials. Not only do you need a trailer that can handle the load capacity you want to haul, but your towing vehicle needs to be able to pull both the trailer and the load. Unsurprisingly, the lighter the trailer you have, the more cargo weight you can carry.  Make sure the trailer is rated for the weight of the load.
2) Size
Think about what you plan to carry and how large that cargo is. If you are pulling an ATV, that is significantly smaller than a skid steer in most cases. Additionally, you need to consider the types of roads you will be driving on. If you expect to be in a lot of tight situations, you likely want a smaller trailer, but if your load is high profile, you need a trailer that can carry it properly.
3) Material
You can usually choose between trailers made of aluminum, steel or galvanized steel. While the latter two are less expensive in most cases, aluminum is the superior choice. It is lighter and more resistant to corrosion and rust. Better yet, when you choose a Millroad trailer, the aluminum is just as strong as a steel trailer. You can't go wrong with aluminum. It is low-maintenance, light, durable and strong.
4) Lifting Mechanism
Think about the lifting mechanism you need for your dump trailer. Most importantly, you need to know how much weight the mechanism can handle and how easy it is to maintain. Millroad uses premium hydraulic cylinders that offer excellent load capacity but are strong and easy to maintain. 
5) Design Options
Finally, consider the other features you want from your dump trailer. For example, you need appropriate axles to be able to handle your desired cargo. Smaller trailers may be okay with a single axle; however, dual axles are needed to take on larger loads.
You may also want to think about the height of the sidewalls. For carrying vehicles and heavy equipment, a flatbed may be sufficient. For gravel or other material, you may need high side walls. Lower walls are typically more flexible but can't contain as much loose material.
Some other features you may want to think about include ramps or wheels. Some trailers include built-in brakes. There are many different options to choose from.
Where To Find a Dump Trailer for Sale
If you are looking for a high-quality dump trailer for sale, call Millroad. We can help you find the right trailer for your needs. Better yet, we have great resale values so you can be confident your investment will last. Get started today by contacting us.