What You Should Know Before You Buy a Dump Trailer
Have you been thinking about buying a dump trailer for your business or personal use? Dump or tilt trailers can be incredibly useful, but you may not realize how many options you have. Before you start looking for a dump trailer for sale, you should consider how you plan to use it, what features appeal to you, and what requirements you have. Here are a few helpful tips to take the guesswork out of buying a new dump trailer.
Start With Your Needs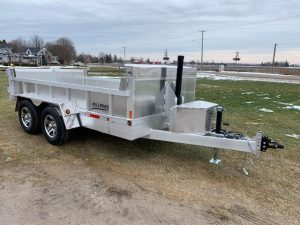 Before you talk to our helpful team at Millroad Trailers, you should have an idea of how a dump trailer can be handy. Do you make a lot of visits to the dump or landfill? Do you have a small tractor or compact loader to haul to a work site? What about removing yard waste or toting gravel? A dump trailer can be a necessary piece of equipment for a variety of businesses, and by buying your own, you can save the expense of frequent rentals.
Know Your Size
Not all dump trailers are created the same; in fact, Millroad Trailers can even customize a tilt or dump trailer according to your specifications. After you determine how you plan to use it, you should figure out what size trailer is right for you. They can vary from 8 to 30 feet, but the most common size is 14 feet for easy maneuverability. Width is another factor to consider; you want to make sure the dump trailer you get can fit the equipment or load you usually haul.
Think About Weight 
Nobody likes to talk about their weight, but you should know the weight limits not only of the dump trailer for sale but also the towing capacity of your vehicle. You wouldn't want to get a trailer that doesn't work safely with your truck, so consider how you can attach and haul your dump trailer as well as how much you can legally tow before you buy anything.
Pick and Choose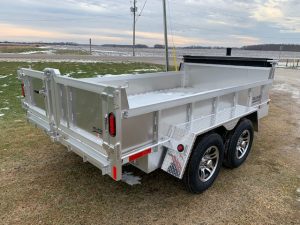 Your next big decision should focus on features. Again, dump trailers are not a one-size-fits-all piece of equipment. Think about the thickness and height of the side walls, where the hydraulic motor is located and what kind of fenders can stand up to the wear and tear you expect your trailer to see. You can even choose what type of toolbox to get for functionality and durability.
Remember Safety Matters 
All the bells and whistles can make a dump trailer more useful, but you also want to consider safety features to keep you and others safe while you're on the road or at a job. Whether you get a tilt or gravity lift mechanism, make sure you or the people who use the trailer understand how to operate it properly. You may also want to invest in a tarp kit to prevent debris, waste, or other materials you are hauling to accidentally fall out onto the road or cars behind you. Be sure you have your rear lights hooked up as well so other drivers know when you plan to brake or turn.
So Many Choices
Clearly, you have a lot of food for thought before you look for a dump trailer for sale. Millroad Trailers can help you narrow down the selection for a dump or tilt trailer that is perfect for you. Visit us or check out our website for more information on custom trailers as well.