5 Practical Uses for Utility Trailers
Utility trailers have a lot of practical uses. From the farm or garden to the construction site, find out how you can enjoy a custom utility trailer to handle these five common hauling needs. When you choose a Millroad Manufacturing product, you'll get a trailer that's ready to haul these and other items at home and on the job.
Top Uses for Your Trailer
A utility trailer uses sides and a gate to increase the flexibility of the things it can haul. Because you can load up your trailer with loose fill, large items or a combination of the two, these are just a few of the many uses for utility trailers. A versatile trailer is perfect for daily use or emergency hauling needs.
Building Supplies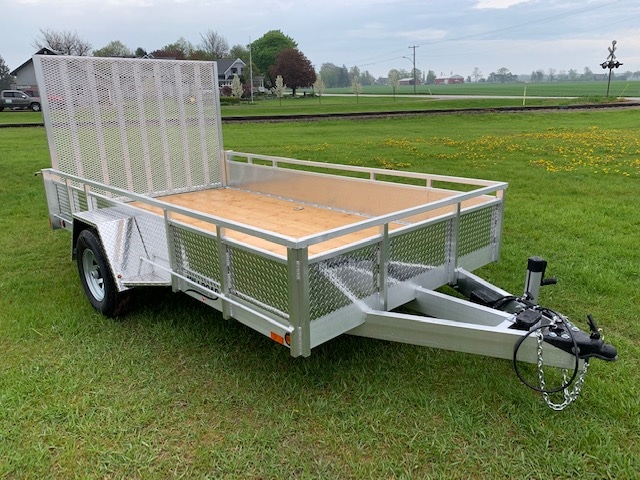 Stack up dimensional lumber, plywood sheets or drywall to gear up for a home improvement project or construction job. A utility trailer is a convenient way to prevent paying for shipping costs for your must-have supplies. Your trailer can also pull double duty and load up scrap materials and debris to send to the landfill or recycling center.
Recreational Vehicles
Prepare for an unforgettable weekend on the trails with your favorite recreational vehicle. Use a convenient ramp on your utility trailer to load up your dirt bike, ATV or golf cart and haul it to the trailhead or golf course. Don't leave your favourite off-road vehicle behind or take a long drive just to reach your trailhead.
Garden Tractors
These trailers are so popular for landscapers that they are also called landscape trailers. Use one to load up a lawn mower and other equipment for convenient travel between jobs. This workhorse of a trailer is capable of handling all the equipment you need to launch your landscaping or lawn care company.
Lawn Care Materials
Load up mulch, topsoil and other loose materials to tackle a landscaping project at home or on the job. The durable side walls allow you to haul loose material without worrying about leaving a trail behind you.
Appliances and Furniture
Move homes, help your kids get their belongings to college or pack up furniture for your summer cottage. Don't pay for an expensive rental trailer but save money by investing in your own utility trailer to haul extra-large home goods wherever they need to go.
Common Sizes and Features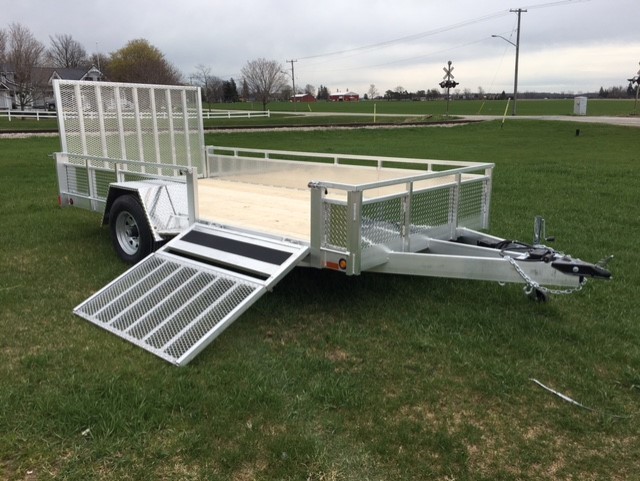 At Millroad Manufacturing, we create a wide range of utility trailers for your projects. Choose a trailer between six feet and 20 feet long. Standard widths range from 48 inches to 80 inches. Our EZ Lube axles use reliable tires and convenient, virtually maintenance-free designs. If you don't see enough tie-down points or safety lights for your trailer, we offer plenty of additional accessories to customize it.
Benefits of Millroad Trailers
We use the best materials and dynamic designs to create innovative utility trailers for professional and homeowner use. Our expert craftsmanship ensures your trailer will match your exact specifications.
Our trailers are made with durable, lightweight aluminum. Aluminum doesn't rust and corrode like steel, so you'll enjoy a low-maintenance trailer that lasts longer than the competition. Even the LED lighting uses shrink wrapping to prevent wire damage.
Because aluminum is lighter than steel, you can enjoy a heavier load limit. Your trailer won't take up as much of your GVWR, or gross vehicle weight rating, so you can haul more items without maxing out your truck or trailer.
Order a Custom Trailer Today
Handle any load with confidence thanks to Millroad Manufacturing. Contact us today to discuss your utility trailer needs and discover what makes our trailers unique. Customize your own or choose a standard option that fits your versatile needs.