Why a Flat Deck Trailer Is Ideal for Landscaping
You've gathered the tools necessary for your spring landscaping plans. Whether you're taking on a DIY project at home or you're toting your gear to a professional job, you need a safe and efficient way to haul your outdoor equipment. Enter the aluminum flat deck. It's one of the most popular landscaping trailers available today, and here's why.
Aluminum Flat Deck Trailers Are Versatile
You can use all sorts of trailers on an outdoor job, but aluminum flatbeds possess specific attributes that make them perfect for active projects such as landscaping. With this type of trailer you can:
Load and unload equipment quickly

Haul large, heavy items

Transport live plants and trees

Move bags of mulch

Take debris to the landfill 
This brief list is just the start of what you can do. Aluminum flat decks are useful on virtually any job site, large or small. With some models, you can load your cargo not just from the back but also from the top and sides.
They're Lightweight But Powerful
Landscaping typically requires a lot of movement around the worksite, especially if that site is a large commercial area. At the same time, your utility trailer needs to stand up to wear and tear without the burden of bulky angles or unwieldy edges. One of an aluminum flat deck trailer's best features is its simply designed, lightweight frame. It's easy to move without sacrificing durability or hauling power. Lawn care items can be loaded and unloaded safely and quickly as you move from location to location, saving you time and effort. Landscaping and gardening are already physically taxing; a lightweight hauler can help lessen the burden on your knees, back and patience.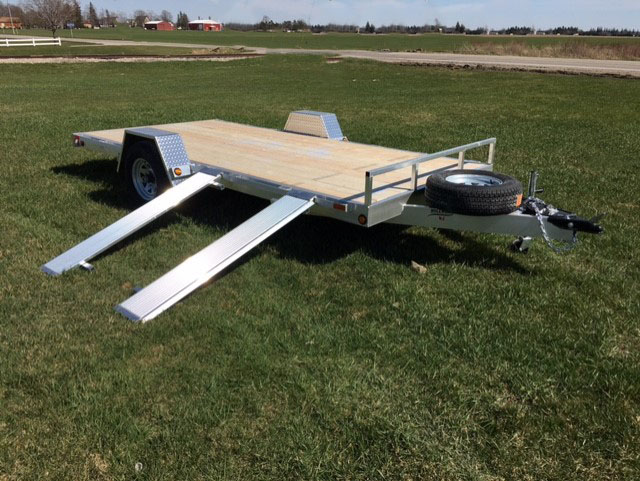 They're Available in a Variety of Sizes
With an aluminum flatbed trailer, you don't have to waste space or try to cram too many tools and materials into the back of your overloaded truck. Aluminum flat decks are available in various sizes, so you can stay within your budget and choose a model that's ideal for your landscaping needs.
When choosing the dimensions of your new trailer, take into account the size and weight of your tools, as well as the nature of your work. Do you anticipate trimming trees with long branches that you'll need to dispose of? What about moving that heavy riding mower? Itemizing your equipment can help you identify your trailer needs and narrow your search. Then, using our selection tool, you can choose the trailer length, width and number of axles required. Our aluminum flat deck trailers measure up to 24 feet in length and 96 inches in width, providing plenty of space for securely storing your lawn care equipment for a wide variety of jobs.
They're Easy To Customize
One of the best things about the flat deck trailer is how easy it is to customize to meet your exact needs. A wide variety of accessories are available for aluminum flatbeds, such as:
They're Good for More Than Just the Garden 
A flatbed aluminum trailer is versatile on the job and off, making it an incredibly sound investment overall. With the ground clearance of the typical flat deck, for example, you can easily load and unload vehicles, such as ATVs or snow equipment. It's also more fuel-efficient and eco-friendly than many trucks.
Every lawn care job has its own unique requirements, and every landscaper, whether a professional or a DIYer, has his or her own financial and physical limits. Check out our wide selection of high-quality trailers from reputable dealers to find the perfect match for your landscaping, gardening and towing needs.