Exploring the Options of Landscape and Utility Trailers
Your landscaping business, construction business, or large property needs a utility trailer. Whether you're hauling leaves across your yard or transporting lawnmowers to the next job site, find out how to select the best options for a custom utility trailer that fits your needs. Don't settle for a generic tool, but take your business or DIY project to the next level with the help of Millroad Manufacturing.
Trailer Size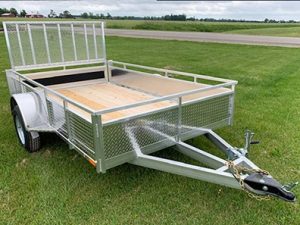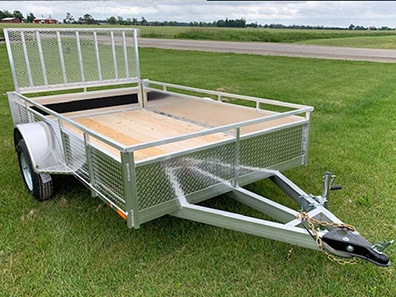 The first thing you need to consider is the dimensions of your ideal trailer. A 20-foot trailer may give you plenty of room to haul all your tools and toys, but it'll be a headache when you're trying to back it into a small campsite or customer's driveway. Select multiple trailers to keep your business flexible or find the ideal size for your personal transportation needs.
Consider the width, number of axles, and overall trailer weight as well. You need a trailer large enough to safely carry your typical load, but small enough to not overload your vehicle. SUVs and cars may be able to handle a small utility trailer, but a large landscaping trailer needs a truck with a high towing capacity.
Open vs. Enclosed
Utility trailers are often enclosed to keep your toys and tools safe. Don't let a little rain damage your ATV, snowmobile, bike or construction tools, but choose an enclosed aluminum trailer for great year-round weather protection.
An open trailer may be more practical for landscaping businesses and other applications. An open trailer allows you to access your tools and fill it from all sides. It's also a more lightweight design, allowing you to carry heavier items without overloading your truck or trailer.
Many utility trailers come with side walls to offer benefits of both open and enclosed trailers. Customize your size and design to strike a balance between storage needs and accessibility. Tall side walls allow you to fill your trailer with mulch, leaves or other loose items, but they can make it difficult to access tools from any side.
Tie-Down Points
No one wants their tools to slide around in their trailer. Prevent damaging your leaf blower or sending a hammer flying down the road by tying down all your tool bags and equipment. Customize your trailer by selecting the best tie-down points for your particular gear. If you haul a number of different items, add plenty of D-rings and other features to handle any load.
Tool Racks
Landscaping, lawn maintenance and construction companies need a variety of tools to get the job done. Your utility or landscaping trailer can come equipped with the personalized tool racks your business needs. Add a toolbox and racks for your weed trimmer, gas can or hand tools for your specific business. This makes it easy to safely store items without the need to strap everything down.
Lighting
A safe trailer needs plenty of lighting. Choose a Millroad Manufacturing trailer and upgrade to LED lighting for your brake lights and turn signals. This keeps you and your trailer safe while you're driving on busy roads to get to the next job or your local dumpsite. LED lighting lasts far longer than traditional bulbs, so you won't have to worry about replacing bulbs for years.
Order a Custom Utility Trailer Today
Discuss your company needs or work project with our team at Millroad Manufacturing today to see how you can optimize your trailer. Shop our inventory today to explore our line of landscape trailers or create a custom aluminum landscape trailer for your personal situation. Accomplish more with an aluminum trailer designed to handle your work, transportation or recreation activities. Speak with our design team today to learn more about your landscape and utility trailer options.