How To Make Your Wood Trailer Deck Last Longer
A versatile flat deck trailer offers you years of convenient hauling capabilities. A wood deck trailer is not only easy to load and unload with a wide range of materials, but a well-maintained deck is a stylish trailer to show off while you drive. Unfortunately, moisture can really do a number of a wood deck if it's not cared for properly. Follow these tips to promote a long-lasting, reliable wood trailer deck on your flat deck Millroad trailer.
Sealant for Your Wood Trailer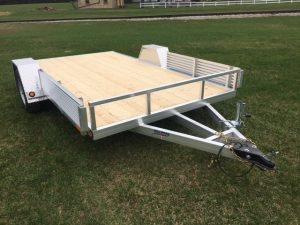 Just like your deck, fence or other outdoor wood surfaces, your trailer deck requires a sealant to keep out moisture. Look for a quality sealant designed for heavy-traffic wood and apply it every year. An annual coat of sealant maintains your deck and keeps each board dry, solid and ready for any load.
Before you start applying sealant, inspect each board for signs of damage. Extensive water damage can rot wood and compromise the holding capacity of your trailer. Consider replacing damaged boards before sealing them.
Safe Storage Options
While it may seem intuitive to cover your trailer to protect it from moisture, be sure you're not exposing it to moisture in a different way. Excessive shade isn't good for your wood trailer deck, so look for ways to keep it dry without storing it in the shade.
Moisture and dark, shaded areas go hand in hand. Even proper sealant doesn't always give you the protection you need. Help your wood deck last longer by avoiding shady storage areas. This isn't always possible, particularly when you're on the job, but look for a dry, sunny spot for your long-term storage solution.
Careful Use
After moisture, your heavy equipment is a major source of flat deck trailer damage. It's not always possible or practical to gently move heavy barrels, boxes or equipment, but try to limit dragging and scraping items on your wood deck.
Dragging heavy loads across your flat deck can chip the wood and expose layers that haven't been properly sealed. Even if there aren't any obvious signs of damage, you may be scraping the sealant off as you work.
It's not always possible to carefully load and unload your trailer. You bought a heavy-duty trailer for heavy loads, so you should be able to use it for these rugged duties. If you find you're dragging and scraping objects day after day, consider applying sealant more than once a year. This will help your trailer deck last longer.
Repair Tips
At the end of a long month, season or year of work, your trailer deck may look a little worse for wear. Even the best maintenance routine can't save your wood deck forever. Thankfully, it's easy to replace a single board or the entire deck of your favourite Millroad flat deck trailer.
Simply find the screws and unscrew the board or entire deck that needs replaced. Check out your epoxy coated screws and tube crossmembers to see if you need to replace your screws or if you have a more serious repair project ahead.
For most repairs, all you need is some lumber and sealant. Swap out a board quickly, seal it up and hit the road. Unlike an aluminum deck, a wood deck is easy and affordable to repair on your own. This simple DIY project will save you money and keep your trailer working hard for years to come.
Enjoy a Long-Lasting Flat Deck Trailer
Contact us today at Millroad Manufacturing to learn more about wood trailer deck maintenance. If you're ready to experience the benefits of a Millroad flat deck trailer, shop today and compare our standard and custom trailer options to see how you can handle heavy loads with confidence.